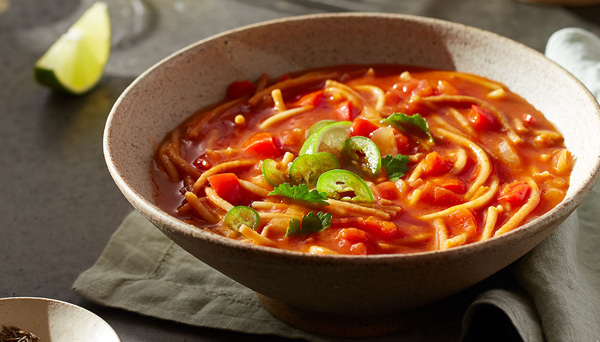 Fideo Soup
This homemade Mexican noodle soup is vegetarian-friendly, and pure comfort food. Fideo translates to noodle and although it is a simple soup, it is full of flavor from our Chili Ready Tomato Sauce, our Petite Diced Tomatoes Green Chilies with Lime and Cilantro. Chop a few vegetables, toast the pasta, add the rest of the ingredients and simmer - it's that simple. We love a squeeze of lime added just before eating for added zing.
Ingredients
COPY INGREDIENTS
Instructions
Heat a large pot or Dutch Oven over medium heat and add the vegetable oil. If you cannot find the short cut pasta you will need to break the vermicelli noodles into 2 inch pieces. Add the dry pasta to the hot pan and brown the noodles, continually stirring for 4 to 5 minutes or until golden brown.
Add the diced onion, garlic, and red bell pepper and cook for 5 minutes. Pour in the tomatoes and chili ready tomato sauce; add the cumin seeds, chicken broth; season with salt and black pepper. Cook the soup for 20 minutes.
Garnish soup with chopped cilantro, jalapeno slices, and lime. Serve with additional lime wedges.