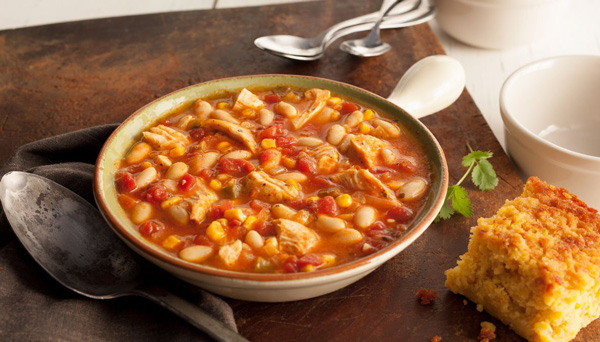 Southwest Chicken Chili
Our zesty take on chicken chili has southwest spices, cannellini beans, corn and our Petite Diced Tomatoes, ready in 30 minutes! Not your typical thick chili, but no less satisfying!
Ingredients
COPY INGREDIENTS
Instructions
Heat oil in a large kettle, add onion and garlic and cook until soft. Stir in chicken broth, petite diced tomatoes, petite diced tomatoes & green chilies, and seasonings. Bring to a boil and simmer for 15 minutes.
Add beans, corn and chicken; simmer for 10 to 15 minutes. Season with salt and black pepper.
Option: Garnish with diced avocado, sour cream or shredded cheese.
Meat Option: Prepare chicken from 1 pound of chicken breasts. Preheat oven to 375° F. In a bowl combine 1½ teaspoons cumin, ½ teaspoon chili powder, ¼ teaspoon garlic powder and ¼ teaspoon salt. Place chicken on lined (foil) baking sheet. Drizzle chicken breasts with olive oil and sprinkle both sides with seasoning mixture. Place in oven and bake for 20 minutes or until chicken is done. Cool and cut into bite size pieces.