For over 75 years, Red Gold has partnered with family farms we personally know. Together, our mission is "to provide the freshest, best tasting tomato products in the world". That's why our Whole Peeled Tomatoes received the ChefsBest® Excellence Award. This award is awarded to brands that surpass the quality standards of the ChefsBest® Master Tasters. Evaluated on true tomato flavor, vine-ripe-red color, uniformity of size - perfectly plump, and strong tomato integrity, it is no surprise that our tomatoes beat out the competition.
Red Gold Tomatoes aren't just family owned, they're family grown and made … for over four generations. Scroll down to learn why we have a Better Tomato!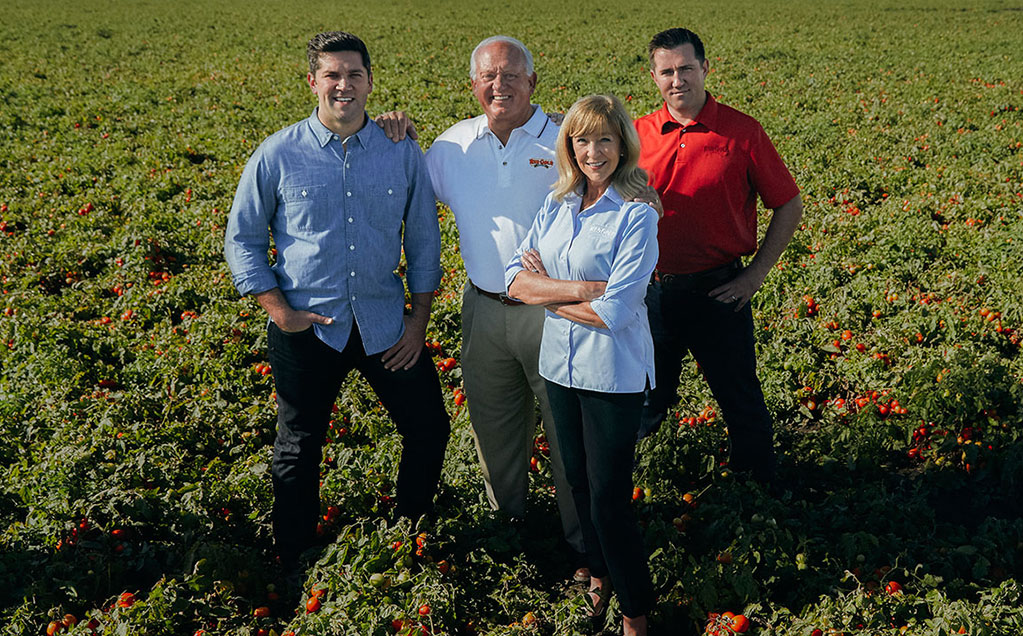 Our Family-Owned Tomatoes
Our family owned company started in 1942. We partner with family farms and farmers we actually know. We focus on sustainable growing practices and efficiently producing the freshest, best-tasting tomato products in the world!
Award-Winning Facilities
Our tomatoes are packed in one of our three family-owned, award winning facilities. In fact, we have won over 175 industry awards for quality, leadership, sustainability and social responsibility...more than any other tomato brand. You can always trust the safety of our Red Gold tomatoes.
Our Tomatoes are Steam-Packed Fresh
Steam forces air out of the can, forming an airtight seal. Our Non BPA liners create a barrier between the tomatoes and the can to protect the fresh, tomato flavor with no 'can' taste. We use steam so we don't need anything else - nothing artificial.
Made With Your Family In Mind
Every label of Red Gold family of brands products feature easy-to-read call-outs, so you can quickly find everything you want in your tomatoes and absolutely nothing you don't.
Verified Non-GMO
All of our canned tomato products are NON GMO Project Verified so you can be sure no matter which product you love, you are getting the very best! The butterfly ensures we are officially NON GMO Project Verified. We use only the best naturally derived ingredients in our recipes. Our tomatoes are picked when they are absolutely vine ripe red, eliminating the need to add artificial flavors, colors or preservatives!

We were verified to put the official butterfly logo on our cans, so your family can trust that our family will always take the extra step to ensure your safety!