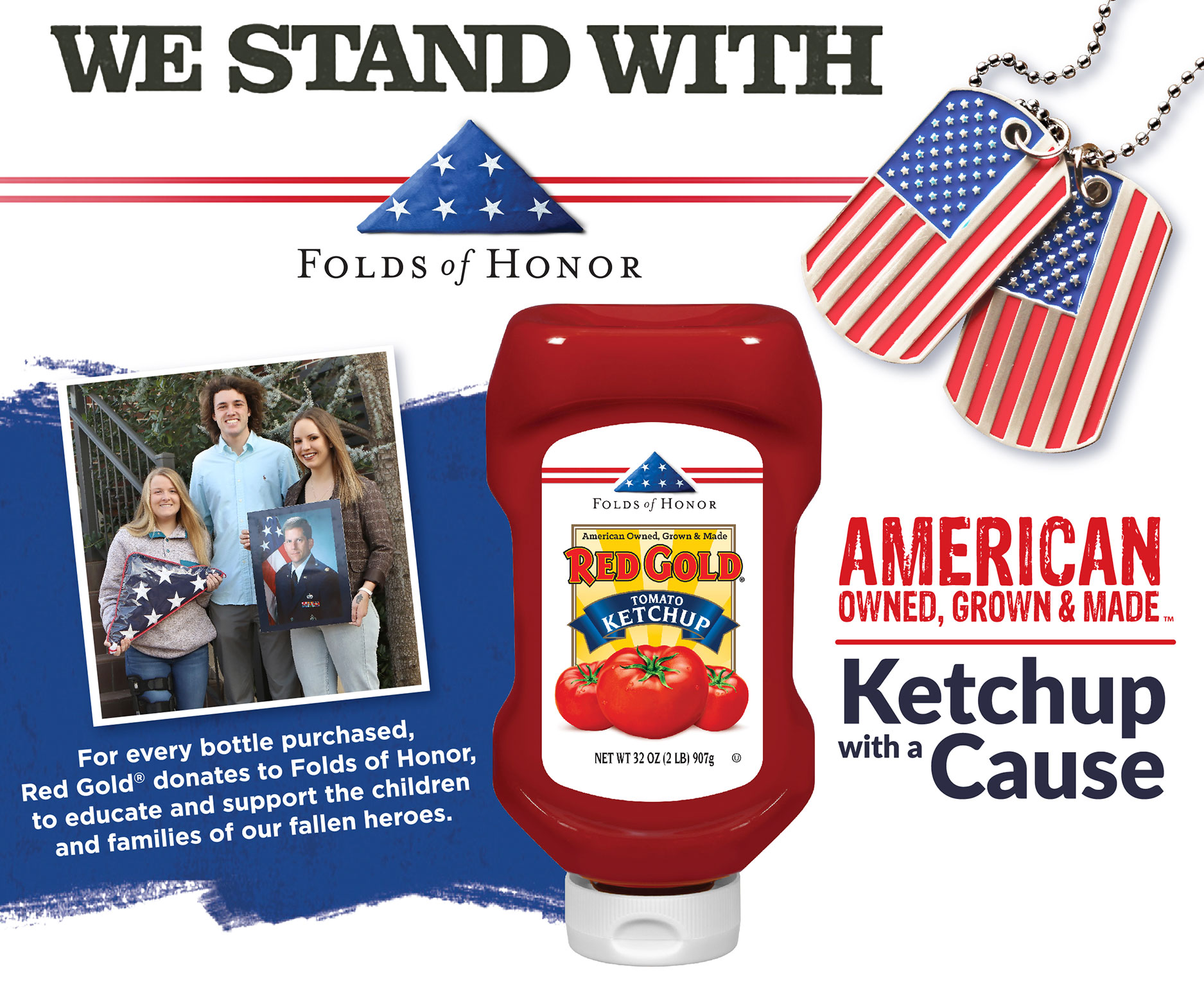 When you buy Red Gold® Folds of Honor Ketchup,
you'll join in the support of our heroes
The Folds of Honor Foundation provides educational support to the children and spouses of those that have fallen or have been disabled while serving our nation. A portion of the proceeds from each purchase of Red Gold® Folds of Honor Ketchup goes directly to aid this mission.

Available in Multiple Sizes

"Seriously, it's really good. Buy it right now. This could be the best decision of your life. 5 out of 5."

Kyle L.
"Love the just-right flavor."

Kenneth B.
"For takeout, we keep Red Gold in the car, just to be safe."
Natalina
"I love your ketchup. I use it all the time on everything"
Ethel W.
"Better than Heinz"
Beth R.
TOMATO KETCHUP
MADE WITH
VINE-RIPENED
TOMATOES
NO-DRIP FLIP-TOP KETCHUP
BOTTLE MAKES ONE-HANDED
DISPENSING A BREEZE


FULL BODIED KETCHUP
TRUE TOMATO FLAVOR
SUSTAINABLY GROWN AND
PRODUCED IN THE US


REAL KETCHUP
FREE OF
ARTIFICIAL COLORS,
FLAVORS, OR PRESERVATIVES
"Awesome product with delicious flavor & natural ingredients. Our new favorite"
Douglas T.
"Best ketchup ever made!!!!!"
Ryan A.
"We absolutely love Red Gold! The best ketchup on the market by far!"
Kevin H.
"Red Gold Ketchup it is by far the best we have ever had"
Sam D.
"LOVE your Red Gold ketchup!"
Diane M.
Look for the Best-Tasting Ketchup at these retailers