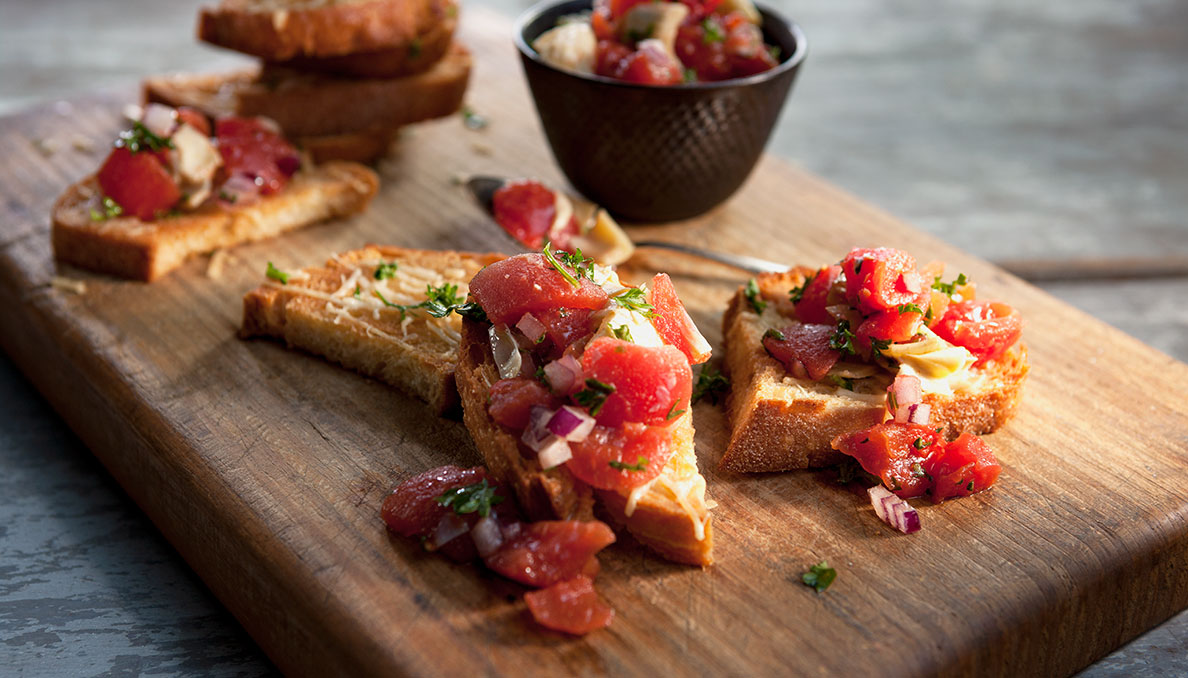 Artichoke and Tomato Crostini
Lemony artichokes, garlic, red onion, and diced tomatoes are dressed with olive oil and balsamic vinegar for a bruschetta-like topping. Served on warm, cheese and herb crostini.
Ingredients
COPY INGREDIENTS
Bruschetta
2 (14.5 ounce) cans Red Gold® Diced Tomatoes 14.5 oz, drained
2 garlic cloves, minced
1/2 small red onion, minced
1 (12 ounce) jar artichokes, drained and chopped small
1/4 cup chopped fresh basil
Salt and black pepper, to taste
2 tablespoons extra virgin olive oil
2 tablespoons balsamic vinegar
Crostini
1 loaf Italian bread, sliced into 1/2 inch slices
or
French bread
2 tablespoons extra virgin olive oil
1/2 cup grated Parmesan cheese
1 teaspoon Italian seasoning
Salt and black pepper to taste
Instructions
For the topping: combine tomatoes, garlic, onion, artichokes, basil, salt, black pepper, oil and vinegar in a large bowl; stir to combine. Allow mixture to set at least 1 hour before using.
To make crostini: preheat oven to 400o F.
Place bread slices on baking sheet covered with foil; in a single layer. Brush or drizzle bread with oil, sprinkle with cheese, Italian seasoning, and black pepper. Bake 5 to 6 minutes until just golden. Spoon tomato topping over crispy crostini and serve.