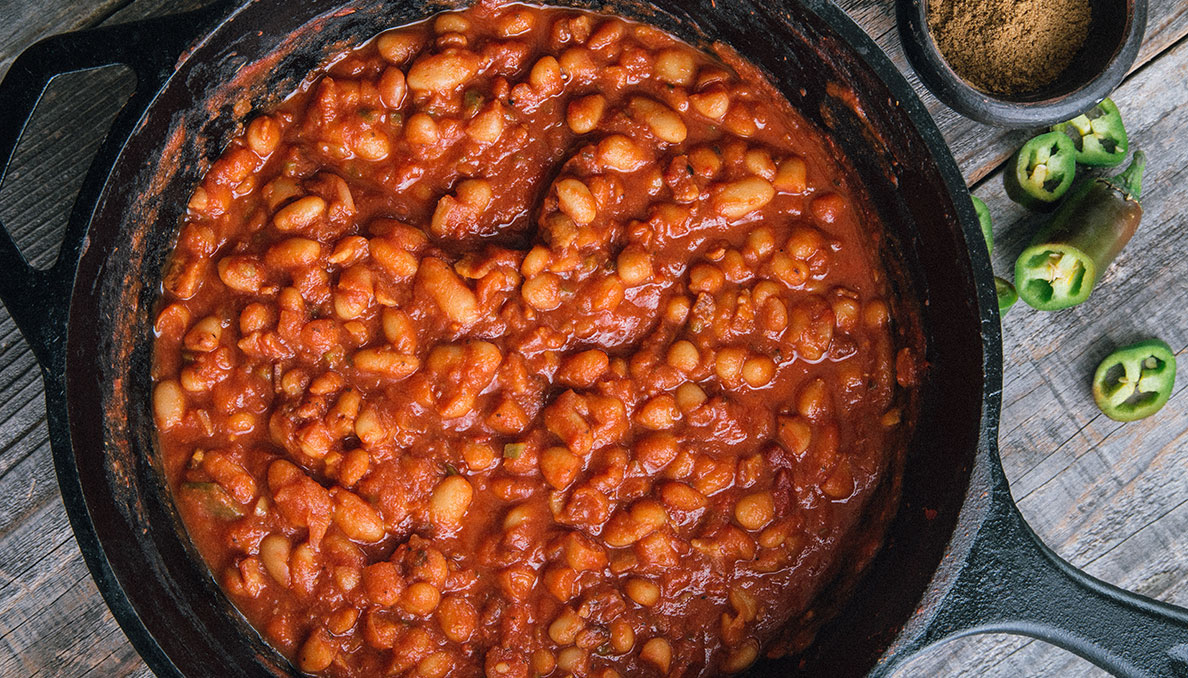 BBQ Baked Beans
Redneck Riviera 1776 BBQ Sauce Original gives this classic barbecue side dish a smokey flavor that pairs perfectly with chicken, pork, burgers, or hot dogs. With just a little prep of chopping, these baked beans are ready in under 30 minutes!

Ingredients
COPY INGREDIENTS
3 slices bacon, diced small
1 medium onion, chopped, about 1 cup
1 red bell pepper, chopped, about 1 cup
1 yellow bell pepper, chopped, about 1 cup
2 cloves of garlic, minced
2 (15 ounce) cans Pinto Beans, drain one can, leave second undrained
4 scallions, green and white parts sliced
2 tablespoons coarse grain mustard
4 tablespoons light brown sugar
1/2 teaspoon of salt
1/4 teaspoon fresh ground black pepper
Instructions
Preheat oven to 350° F.
Heat a medium skillet over medium-high heat and cook chopped bacon for 3 to 4 minutes until bacon starts to crisp and renders fat.
Add the onions, garlic, bell peppers, and cook for 4-5 minutes until vegetables soften and onions just start to brown. Season with salt and pepper.
Add the coarse ground mustard, brown sugar, and BBQ sauce, mix and cook to dissolve the sugar.
In a 2 quart ( 8x8 inch square or 8x10 rectangle) casserole dish, add the beans and the bacon and vegetable mix; mix well. Place in preheated oven and bake for 30-45 minutes or until hot and bubbly.
Remove from the oven and let beans sit for 5-10 minutes before serving.
Cook's Note: to easily chop bacon, place bacon slices in the freezer for 15-20 minutes to firm for easier chopping, but do not freeze solid.