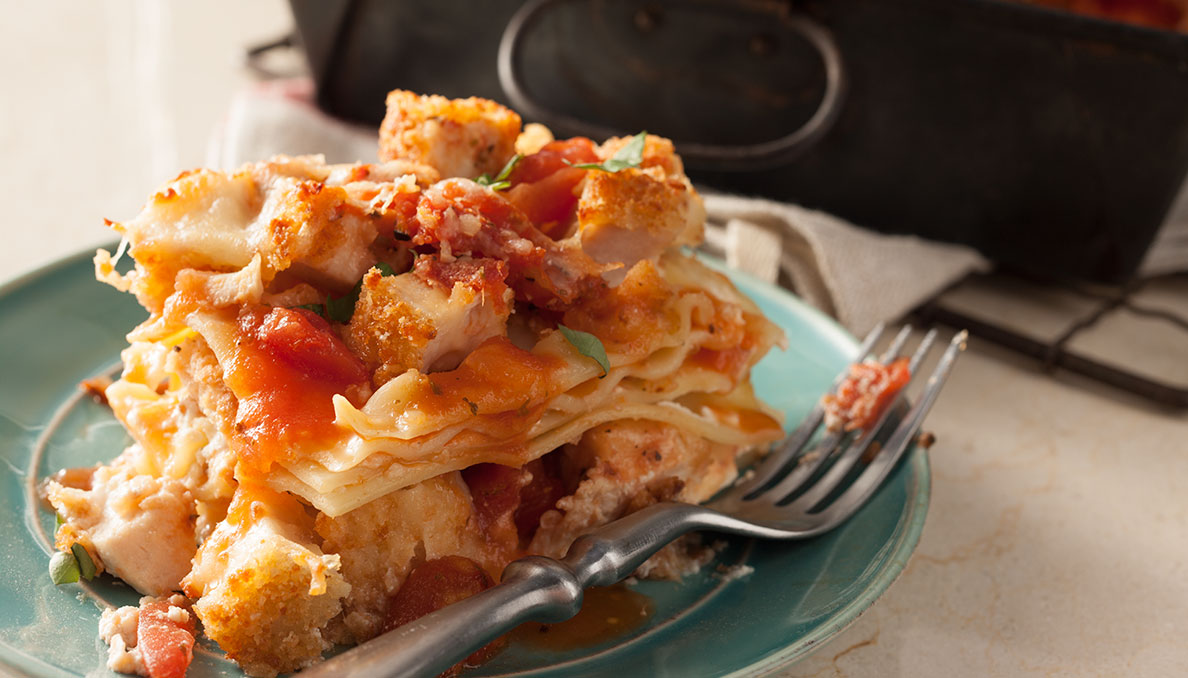 Chicken Parmesan Lasagna
Two classic Italian favorites in one yummy dish! Add chicken that has been breaded and browned to crispy perfection to our all-in-one lasagna recipe for a flavorful baked Chicken Parmesan with a twist.
Ingredients
COPY INGREDIENTS
5 thin-cut boneless skinless chicken breasts, or chicken breast halves pounded to ½ inch
2 tablespoons all-purpose flour
2 eggs, beaten
3 cups panko bread crumbs
1 cup grated Parmesan cheese
1/2 cup extra virgin olive oil
1 (28 ounce) can Red Gold® Crushed Tomatoes 28 oz
or
2 (15 ounce) cans Red Gold® Crushed Tomatoes 15 oz
2 (14.5 ounce) cans Red Gold® Diced Tomatoes Basil, Garlic & Oregano 14.5 oz
1/2 cup water
1 teaspoon Italian seasoning
Salt to taste
1 (16 ounce) box traditional lasagna noodles, uncooked
1 (15 ounce) carton low fat ricotta cheese
3 cups shredded mozzarella cheese
1/2 cup grated Parmesan cheese
1/4 cup chopped fresh basil
Instructions
Preheat oven to 350° F. Place beaten eggs into a shallow bowl. Mix breadcrumbs and ½ cup Parmesan cheese in a separate bowl. Place flour in a sifter or strainer. Place chicken breasts on a piece of foil and sprinkle with flour from the sifter, on both sides.
Dip chicken breasts in beaten eggs, then breadcrumb mixture, pressing crumbs into both sides. Repeat with each breast. Heat oil in a large skillet over medium high heat. Cook chicken until golden, about 2 minutes on each side. Cool and cube chicken to use as a layer in the lasagna
In large mixing bowl combine tomatoes, water, Italian seasoning and salt. Stir until ingredients are thoroughly combined.
Cover the bottom of a 9x13 inch baking pan with 1½ cups of sauce mixture. Arrange 1/3 of noodles on top of sauce, slightly overlapped. Top with, ½ of ricotta cheese, 1/3 of the cubed chicken, 1 cup of mozzarella cheese and 1 cup of sauce. Repeat layers and top with last 1/3 of noodles, the remaining sauce and the last 1/3 of the cubed chicken. Sprinkle with remaining mozzarella and Parmesan cheese.
Cover tightly with foil and bake for 1 to 1½ hours; until noodles are cooked. If you prefer the cheese on top of lasagna to be crispy, remove foil the last 10 minutes of cooking time. Let stand for 15 minutes before serving. Sprinkle top with fresh chopped basil before serving.
The recipe makes 12 servings, but you could divide the recipe into two 9x9 inch baking dishes and freeze one for a wintry night supper.