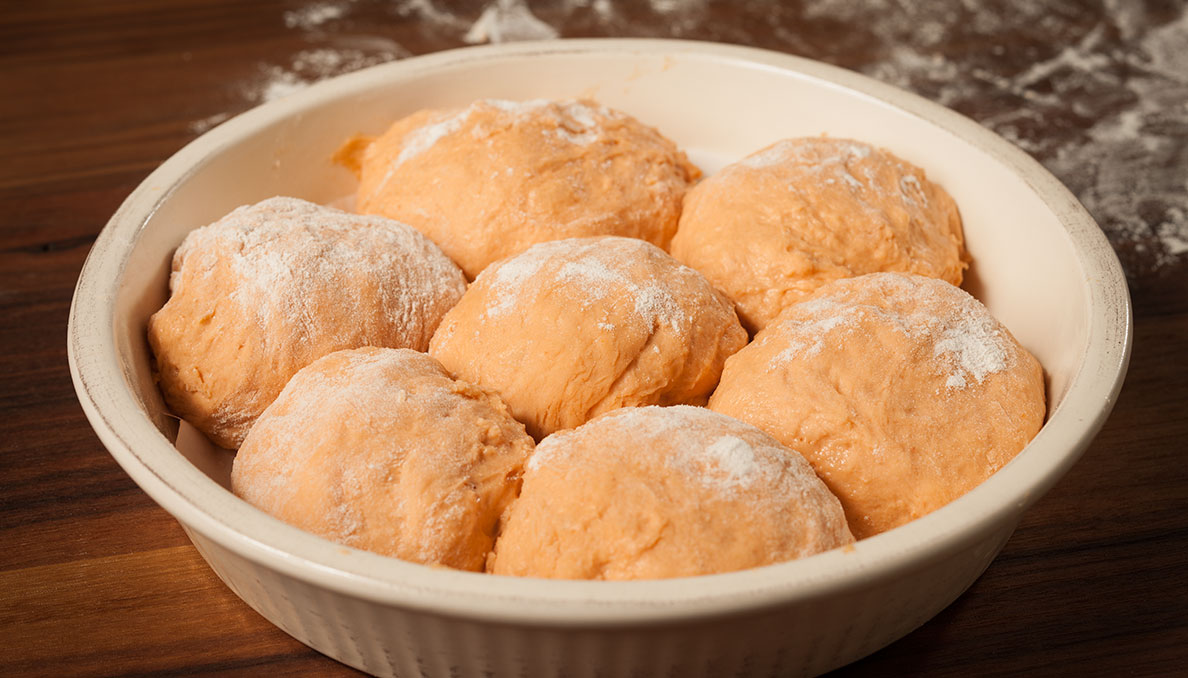 Dinner Rolls
Fluffy, homemade dinner rolls that are easy to make. What makes them Red Gold delicious? Our fresh squeezed tomato juice! They give the rolls a delectable flavor that no one will ever guess. You can make these into dinner rolls, a loaf of bread or burger buns, the possibilities are up to you. We love to slather them with our Whipped Tomato Butter for the perfect topping!
Ingredients
COPY INGREDIENTS
Instructions
Preheat oven to 375° F. In a small bowl combine yeast and warm water. Stir to combine and let soften for about 10 minutes.
In a separate bowl combine tomato juice, eggs, sugar and salt; stir to combine. Add softened yeast and half of the flour; mix well. Add butter and rest of flour.
Mix together very well by kneading for several minutes. Cover with plastic wrap and let rise until double in size, about 1½ hours.
Punch down dough and divide dough into 12 pieces. To shape into rolls, tuck the edges underneath to form a plump little package, then roll the dough against the counter or between your palms until round.
Line a 9 x 13 inch baking sheet with parchment and spray with nonstick coating. Arrange the rolls on the baking sheet about an inch apart. Or spray a 9 inch cake pan or pie plate and arrange rolls around the outside and one in the middle leaving about an inch between each. Let rolls rise until puffy and fill the pan with no gaps between the rolls, about 30 to 40 minutes.
Bake the rolls until puffed, dry on top, and golden brown, 18 to 20 minutes. Sprinkle top with grated Parmesan cheese and bake one minute to melt cheese.