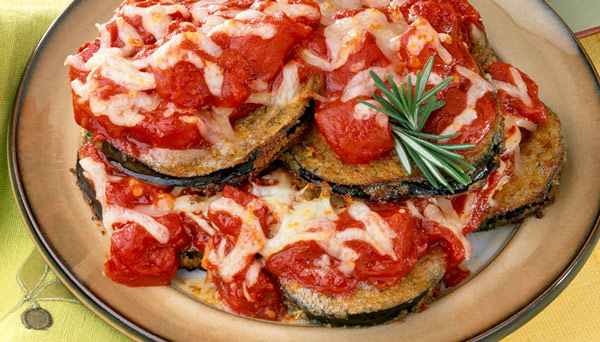 Eggplant Parmesan
Eggplant slices are coated with bread crumbs and Parmesan cheese and baked between layers of tomato sauce and mozzarella cheese for a filling Italian-inspired meal.
Ingredients
COPY INGREDIENTS
Instructions
Preheat oven to 350° F.
Dip eggplant slices into eggs, then breadcrumbs, and arrange in a single layer on a baking sheet.
Broil 4 inches from heat until brown and tender, about 5 minutes per side. Place in a 13 x 9 inch baking dish.
In a small bowl, combine diced tomatoes, tomato paste and water; pour over eggplant slices and top with cheese.
Cover and bake for 20 minutes or until heated through.
Sprinkle with Parmesan cheese.