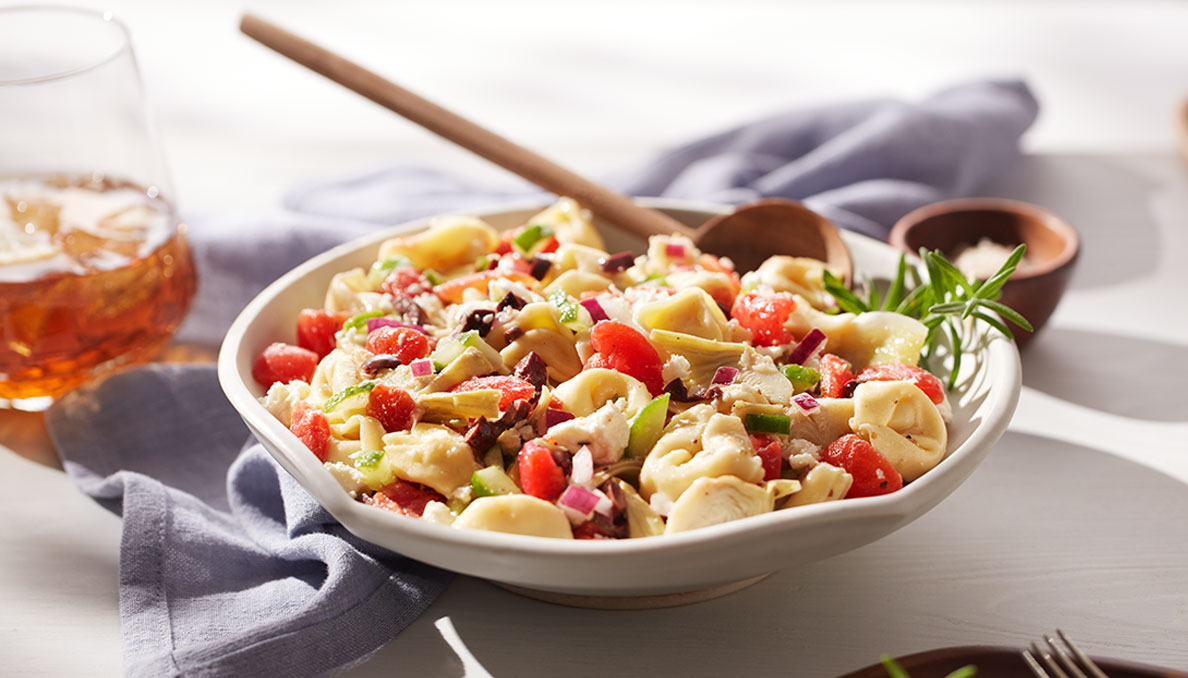 Greek Pasta Salad
This easy pasta salad is fresh and flavorful with it's homemade Greek dressing, cucumbers, kalamata olives, pasta, tomatoes, artichokes and feta cheese. A meatless pasta salad that can easily eat as a main course or side dish. Perfect for picnics or potlucks, or when you want the taste of summer any time.
Ingredients
COPY INGREDIENTS
Salad
1 (12 ounce) package three cheese tortellini, small in size, dried pasta
2 (14.5 ounce) cans Red Gold® Diced Tomatoes 14.5 oz, drained and rinsed
1 medium to large cucumber, diced into bite-sized cubes or 2 small zuchhinis diced
1 1/2 cups Kalamata olives, pitted and chopped
1/2 of a small to medium red onion, finely diced
1 (14.5 ounce) can small artichoke hearts, drained and chopped
1 cup feta cheese, crumbled
Greek Dressing
1/4 cup extra virgin olive oil
3 tablespoons red wine vinegar
1 teaspoon Dijon mustard
1 garlic clove, minced fine
or
1 teaspoon garlic puree
1/2 teaspoon dried oregano
Kosher salt and fresh ground black pepper, to taste
Instructions
Prepare pasta according to package directions. Drain well and rinse with cold water to stop cooking.
Add cooked and cooled tortellini to a large bowl, add tomatoes, cucumber, olives, onion and feta. Stir gently to combine.
In a small mason jar, combine the olive oil, vinegar, Dijon, garlic, oregano, salt and pepper. Shake vigorously to combine and slightly emulsify (if you don't have a mason jar, use a small bowl and whisk).
Pour dressing directly over the pasta and vegetables and gently toss and stir to combine and coat the pasta. Serve immediately or refrigerate and until ready to serve. You can make ahead pasta salad up to 3 days before serving and store in refrigerator.