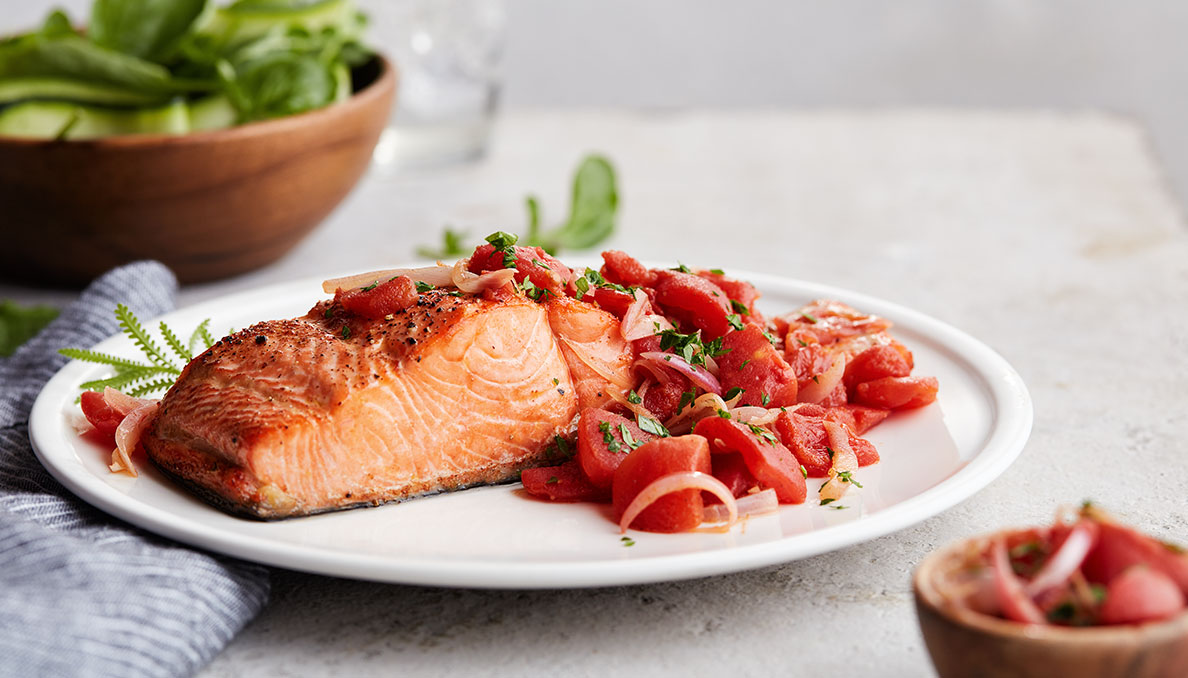 Herb Roasted Salmon and Tomatoes
When you are short on time to make dinner, we have the solution. Roasted salmon fillets are topped with fresh herbs and a savory tomato sauce that is ready in about 15 minutes.
Ingredients
COPY INGREDIENTS
Tomato Topping
1 (14.5 ounce) can Red Gold® Diced Tomatoes 14.5 oz, drained
or
1 (14.5 ounce) can Red Gold® Diced Tomatoes Basil, Garlic & Oregano 14.5 oz
1 medium shallots, thinly sliced
1 garlic clove, minced
2 tablespoons red wine vinegar
Salmon
3 tablespoons extra virgin olive oil
4 salmon fillets, center-cut with skin on, about 7 ounces each
freshly ground black pepper
1/2 teaspoon ground cumin
2 tablespoons canola oil
2 tablespoons Fresh minced parsley
2 tablespoons chopped fresh basil
Instructions
Preheat oven to 425º F.
In a bowl, toss the diced tomatoes with the shallot, garlic, vinegar and 1/2 teaspoon of salt.
In a medium ovenproof skillet, heat 1 tablespoon of the olive oil over high heat. Season the salmon with salt and black pepper and add salmon to the skillet, skin side up. Cook until well browned on the bottom, about 3 minutes. Carefully flip the fillets. Transfer the skillet to the oven and roast until salmon is cooked through, about 7 minutes. Transfer fish to plates and pour off any remaining fat from the skillet.
Place skillet over moderate heat and add the tomato mixture along with the cumin, canola oil and remaining 2 tablespoons of olive oil. Cook, scraping up any bits stuck to the skillet, about 2 minutes.
Pour sauce over the salmon, sprinkle with the parsley and basil, serve immediately.