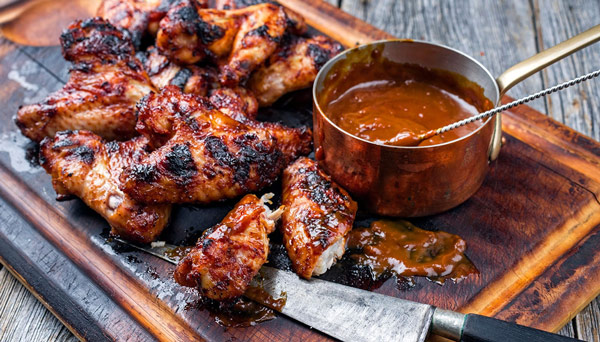 Nickel City Freedom Wings
You can almost taste the freedom when you eat these wings! Made with 1776 Original BBQ Sauce made in America by American Owned, Grown, and Made companies - Red Gold Tomatoes and Redneck Riviera.

Ingredients
COPY INGREDIENTS
24 chicken wings, a mix of drums and flats, separated
1/4 teaspoon fresh cracked pepper
1/2 teaspoon sea salt
1/4 teaspoon garlic powder
1/4 teaspoon onion powder
1/2 teaspoon chili powder
1/4 teaspoon cayenne powder
4 tablespoons unsalted butter, cut into 1 tablespoon pats
Instructions
In a small bowl, combine the spices. Season the wing pieces with the spice mix on all sides.
Spray a slow cooker with non-stick spray. Place seasoned wings in a slow cooker and top with butter. Cover and cook on High for 3 hours.
After 3 hours of cook time, baste the wings with the 1776 Original BBQ Sauce, you can do this with a bbq brush or spoon. Cover and cook for 1 hour.
Line a baking sheet with foil. When wings are cooked (4 hours total), carefully remove the wings from the slow cooker; they are going to be fall-apart tender, to the lined baking sheet. Drizzle the wings with a little bit more bbq sauce. Place under a broiler set to High for 5-10 minutes. Remove from oven and let wings set for 10 minutes before serving. Have plenty of napkins on hand!