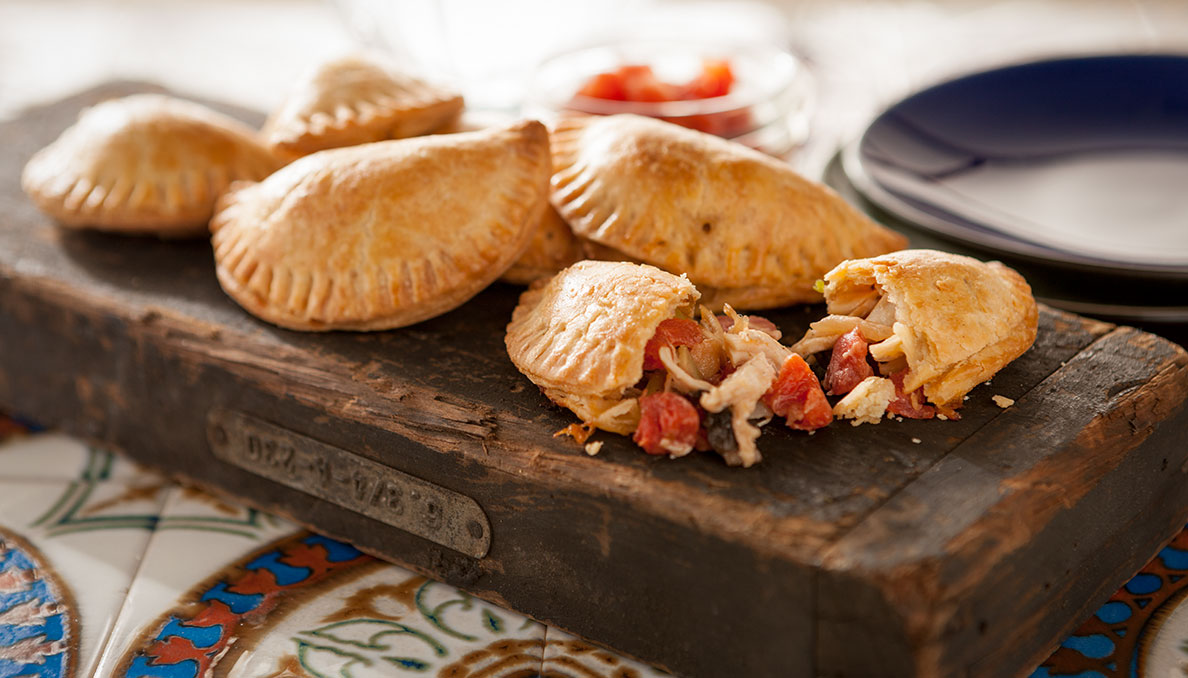 Chicken Empanadas
Experience a delicious burst of flavor when you try shredded chicken empanadas with olives. Simply combine shredded chicken, onion, olives, mushrooms and tomatoes!
Ingredients
COPY INGREDIENTS
Filling
2 tablespoons extra virgin olive oil
1 small yellow onion, chopped
1 clove garlic, minced
1/2 cup diced green olives
2 cups cooked shredded chicken breast
1 cup diced cooked mushrooms
2 tablespoons chopped fresh Italian parsley
1 tablespoon flour
1 cup heavy cream
Salt and black pepper to taste
Shells
1/4 pound butter
2 1/2 cups all-purpose flour
1/2 teaspoon salt
2 egg yolks, beaten
2 tablespoons milk
3 tablespoons water
1 egg, beaten
Instructions
Filling
Heat oil in a medium skillet. When heated add the onion and olives and sauté for 5 minutes.
Add chicken, mushrooms, parsley and tomatoes. Let the mixture cook for 10 minutes.
In a small bowl dissolve the flour in the cream. Add to chicken mixture and stir until thickened. Remove from heat and set aside.
Shells
Preheat oven to 400° F. In a bowl cut butter into flour and salt. Add 2 egg yolks, milk and water; stir to combine or just process these ingredients until it forms a ball. Let rest covered for 1 hour.
Lightly flour a clean work surface and a rolling pin. Roll the dough out to about 1/8-inch thick. Using a 4-inch-round pastry-cutting mold, cut circles from the dough. (Alternatively use a knife and trace around a 4-inch plate to form the circles.)
Gather the dough scraps and form into a ball again. Roll out the dough and cut more circles. (If the dough springs back and is difficult to roll out, let it rest before rolling again.) Makes about 16 dough circles.
Line 2 baking sheets with parchment paper.
Take 1 of the cut circles and place 2 heaping tablespoons of the filling in the center. Brush the edges of the empanada with the beaten egg. Fold the circle in half to form a half moon and seal the edges together with a fork or pinch with your fingers. (Be mindful when sealing to squeeze out any air pockets.) Place on the baking sheet covered with parchment paper. Repeat with the remaining dough circles, spacing the formed empanadas a few inches apart. Bake for 20 to 25 minutes or until golden brown.
Option: Make smaller circles to prepare appetizers with this recipe.