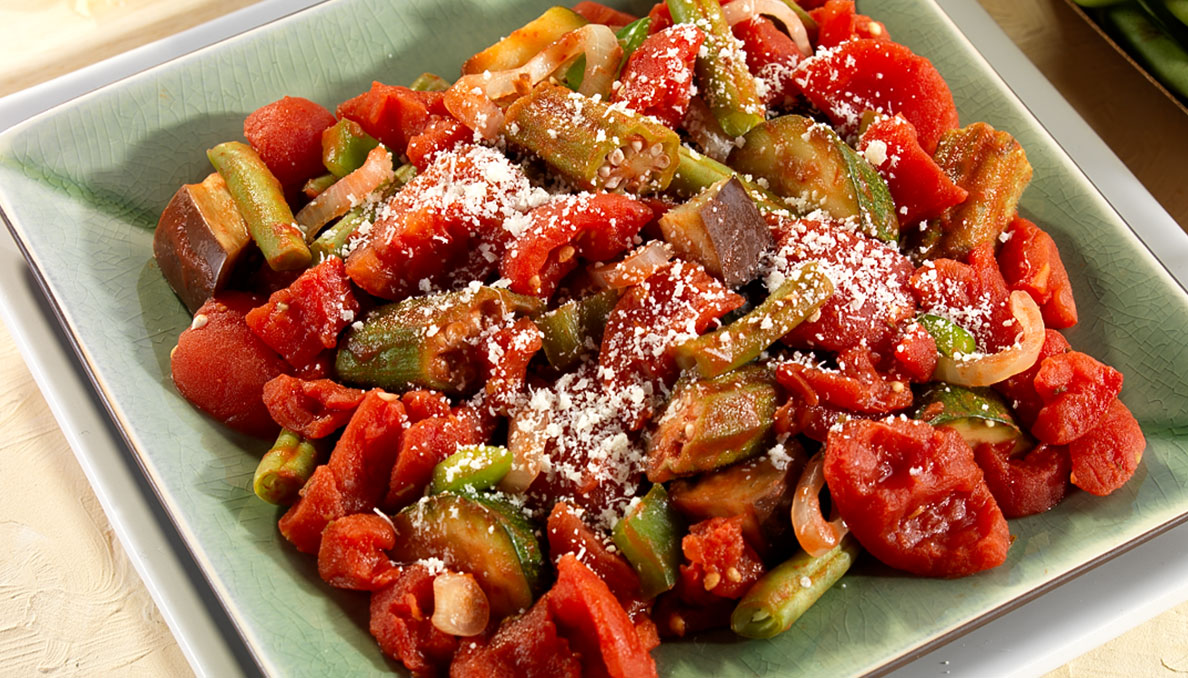 Roasted Vegetables
This colorful dish has the perfect blend of sweet and savory. It is simple to prepare and can be served as a side dish, salad, or light meal. Feel free to substitute whatever veggies and herbs you have on hand.
Ingredients
COPY INGREDIENTS
2 (14.5 ounce) cans Red Gold® Diced Tomatoes 14.5 oz, undrained
1 medium onion, sliced
1/2 pound fresh green beans, sliced
1/2 pound fresh okra, cut into 1/2 inch pieces
3/4 cup chopped green bell pepper
2 tablespoons fresh lemon juice
1 tablespoon chopped fresh basil
1 1/2 teaspoons chopped fresh oregano
1 medium zucchini, cut into 1 inch cubes
1 medium eggplant, pared and cut into 1 inch cubes
2 tablespoons grated Parmesan cheese
Instructions
Preheat oven to 400° F. Mix together tomatoes, onion, green beans, okra, green bell pepper, lemon juice and herbs. Pour onto a sheet pan and place in preheated oven and roast for 15 minutes.

Remove pan from the oven and mix in zucchini and eggplant; continue roasting, for 15-20 minutes or until vegetables are tender. Stir occasionally. Sprinkle with grated Parmesan cheese just before serving.
Cook's Note: This dish can also be prepared on a grill pan using the same instructions but on the grill and not in the oven. This is a great way to keep the kitchen cool and get smoky, grilled vegetables to serve along a grilled steak or grilled chicken for a full meal.