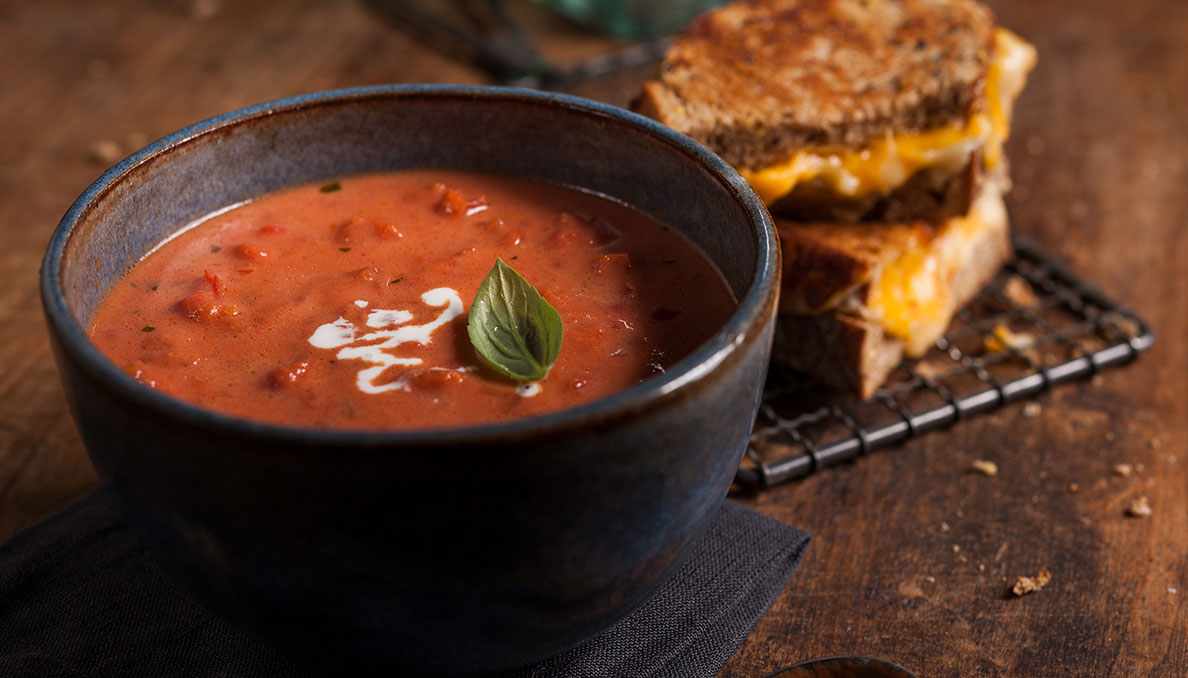 Tomato Basil Soup
With only six ingredients, this rich, creamy tomato soup is ready fast! Our favorite way to enjoy is with a buttery, gooey Gruyere & Cheddar Grilled Cheese sandwich! For something fun, cut the grilled cheese into bite-sized squares for croutons! So yummy!
Ingredients
COPY INGREDIENTS
Tomato Basil Soup
1 (28 ounce) can Red Gold® Crushed Tomatoes 28 oz
or
2 (14.5 ounce) cans Red Gold® Crushed Tomatoes 15 oz
1 (14.5 ounce) can chicken broth
1/4 cup chopped fresh basil
1 teaspoon sugar
1 cup whipping cream
3/4 cup butter
Grilled Cheese Sandwich
8 slices of whole grain bread, or bread of choice
4 slices Gruyere cheese
4 slices Cheddar cheese
2 tablespoons butter
Instructions
In a soup kettle, bring the crushed tomatoes and broth to a boil. Reduce heat; cover and simmer for 10 minutes.
Add basil and sugar. Reduce heat to low; stir in cream and butter. Cook until butter is melted.
Gruyere and Cheddar Grilled Cheese Sandwich: Melt 2 tablespoons butter in skillet. Arrange 4 slices of bread for assembly of sandwiches. Top each slice with 1 slice of gruyere chees and 1 slice of cheddar cheese and top with remaining slices of bread. Place assembled sandwiches in the hot skillet and brown completely on one side before flipping and turning to grill the second side, add more butter if needed. Grill until both sides are golden brown and cheese begins to melt.