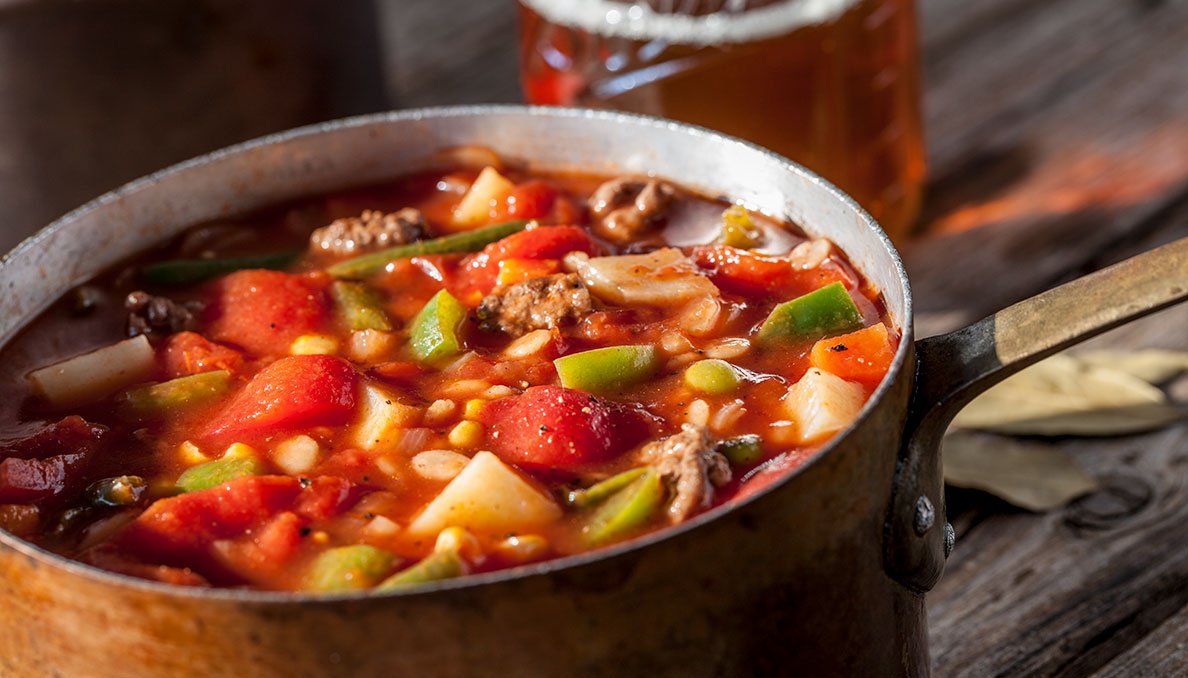 Vegetable Beef Soup
This vegetable soup has minimal prep and nearly cooks itself! Toss in the ingredients and let it cook on your stove top for a hearty, satisfying meal. It will take you back to Grandma's kitchen.
Ingredients
COPY INGREDIENTS
1 pound lean ground beef
1 medium onion, chopped
1 medium green bell peppers, chopped
2 (14.5 ounce) cans beef broth
1 (28 ounce) can Red Gold® Whole Peeled Tomatoes 28 oz, drained, and cut into bite-sized pieces
1 cup frozen whole kernel corn
1 (10 ounce) package frozen mixed vegetables
3 potatoes, peeled and chopped or 1 cup frozen hash brown potatoes
Salt and black pepper to taste
1 bay leaf
1 (46 ounce) can Red Gold® Fresh Squeezed Tomato Juice 46 oz
3/4 cup quick cooking barley
Instructions
In a large soup kettle brown ground beef, onion and green bell pepper; drain off excess fat. Sir in beef broth, whole peeled plum tomatoes, corn, frozen vegetables, potatoes, salt, black pepper, bay leaf, tomato juice and barley.
Heat to boiling; reduce heat and cook for 30 minutes. Remove bay leaf. And cook an additional 30 minutes.