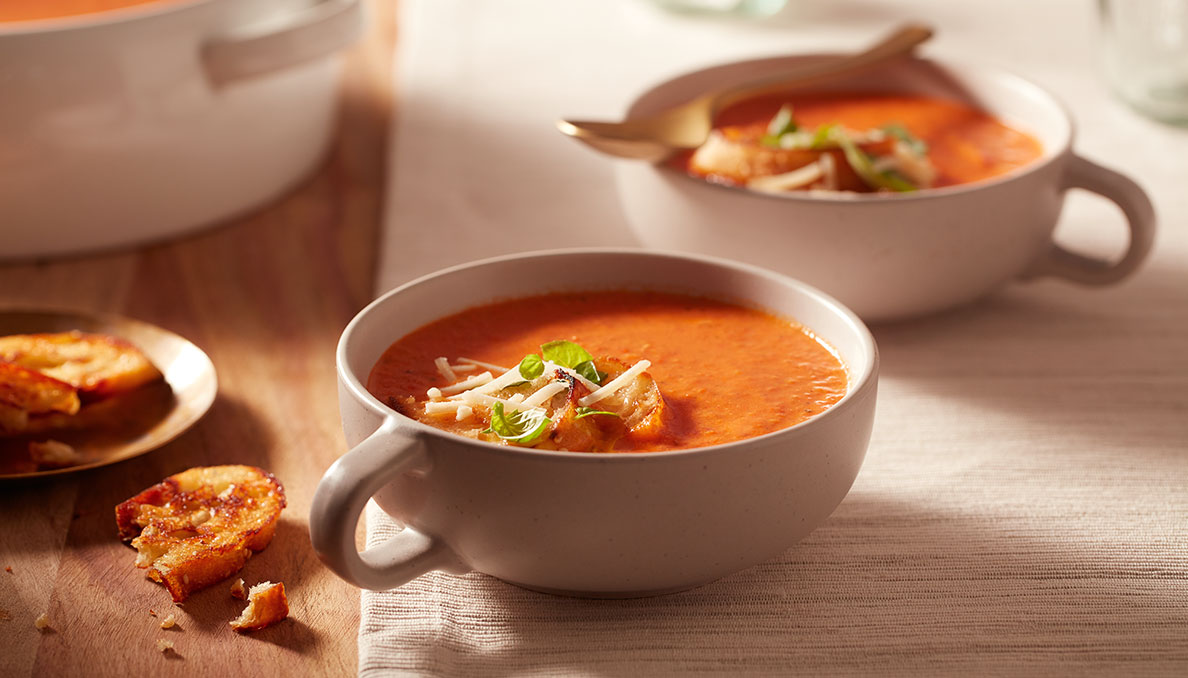 Roasted Red Pepper Tomato Soup
Quality ingredients shine in this simple and flavorful soup. Roasted red peppers add a rich, smoky flavor and unexpected tang to the creamy tomato and basil base.
Ingredients
COPY INGREDIENTS
2 tablespoons olive oil
2 tablespoons butter
1 cup chopped onion
1 cup chopped celery
1 teaspoon dried basil
2 cloves garlic, minced
1 (28 ounce) can Redpack® Petite Diced Tomatoes 28 oz
1 (16 ounce) jar roasted red bell peppers, including liquid
2 cups vegetable or chicken stock
1-2 cups heavy cream, or Half and Half
Salt and ground black pepper, to taste
Instructions
Heat a dutch oven over medium heat and heat olive oil and butter. Add onions, celery, and dried basil;

sauté until tender. Add garlic and

sauté about 30 seconds. Stir in tomatoes and roasted red peppers with liquid and cook for 3 minutes. Add the chicken stock and bring to a boil, reduce to simmer and cook for 30 minutes to blend flavors.

With an immersion blender, puree soup to desired consistency (if you don't have an immersion blender, allow the soup to cool slightly and puree in a blender).

Add cream and heat through. Taste for seasoning and adjust with salt and black pepper.