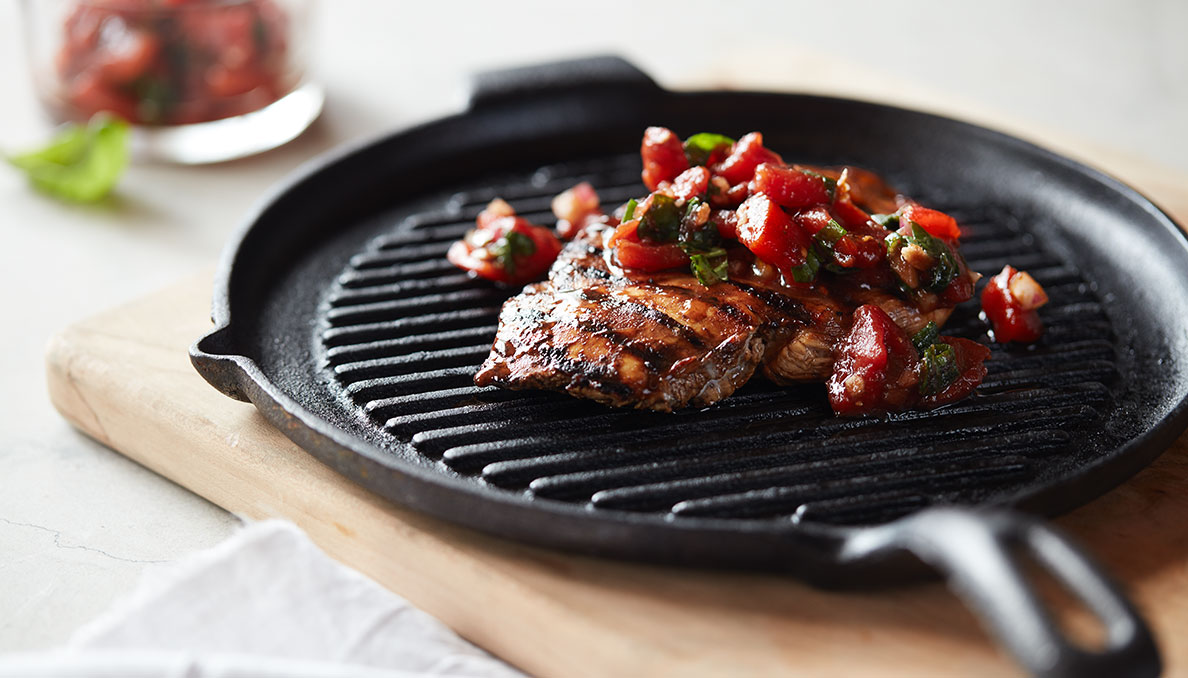 Bruschetta Grilled Chicken
Chicken that has been marinated, then grilled is finished with a fresh bruschetta topping of tomatoes, garlic, red onion, balsamic vinegar, olive oil, and fresh basil.
Ingredients
COPY INGREDIENTS
Marinade
1 tablespoon extra virgin olive oil
1/4 cup balsamic vinegar
2 garlic cloves, minced
4 boneless skinless chicken breasts, pounded to 1/2 inch thick
Bruschetta Topping
2 (14.5 ounce) cans Red Gold® Diced Tomatoes 14.5 oz, drained
2 garlic cloves, minced
1/4 cup red onion, finely chopped
2 tablespoons balsamic vinegar
1 tablespoon extra virgin olive oil
Salt and fresh ground black pepper, to taste
2 tablespoons fresh basil leaves, chopped
Instructions
Prepare the marinade by combining the oil, balsamic vinegar, garlic, salt, and black pepper in a plastic bag. Add the chicken to the bag, remove air and seal. Place in the refrigerator for 30 minutes or overnight.
Prepare the bruschetta by combining the canned diced tomatoes, garlic, onion, vinegar, oil, salt, black pepper, and basil in a small bowl; stir to combine.
Remove the chicken from the marinade and place on a hot grill or under the broiler. Turning once and brush with remaining marinade. Cook until chicken is cooked through, about 6 minutes per side.
Remove chicken from grill and top each piece of chicken with about 1/4 cup of bruschetta. Serve immediately.