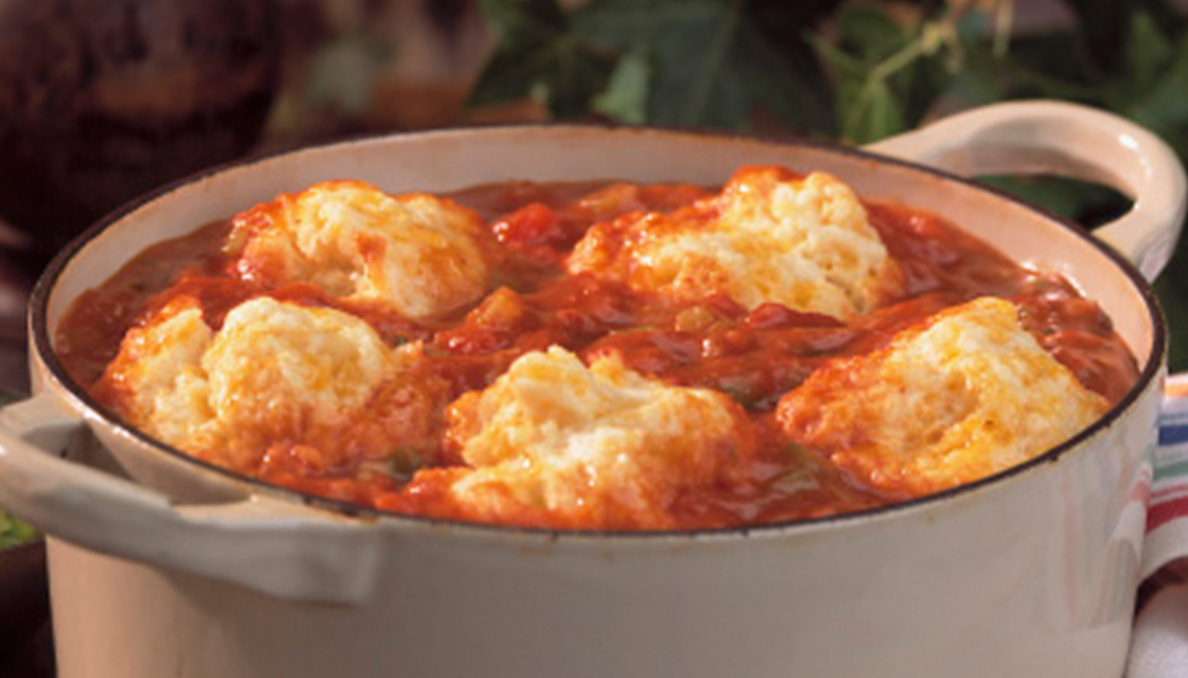 Cheddar Tomato Dumplings
A savory, unexpected dish, this recipe features fluffy dumplings, a rich tomato-based sauce, fresh herbs and gooey cheese. Season to taste to make sure it's flavored just the way you like it.
Ingredients
COPY INGREDIENTS
Sauce
2 tablespoons onion, finely chopped
1 tablespoon green bell pepper, finely chopped
2 tablespoons vegetable oil
1 cup flour
1 (28 ounce) can Red Gold® Whole Peeled Tomatoes 28 oz
or
2 (14.5 ounce) cans Red Gold® Whole Peeled Tomatoes 14.5 oz
1 tablespoon minced celery leaves
1 teaspoon sugar
Salt and black pepper to taste
Dumplings
1 cup flour
2 teaspoons baking powder
1/2 teaspoon salt
2 tablespoons shortening
1/2 cup shredded cheddar cheese
1/2 cup milk
Instructions
In a large skillet, sauté onions and green bell pepper in oil until tender. Add 2 tablespoons flour; stir well. Gradually blend in whole peeled tomatoes, breaking up tomatoes with a spoon.
Add celery leaves, sugar, salt and pepper; bring to a boil over medium heat. Cook and stir for 2 minutes. Reduce heat; cover and simmer for 5 minutes.
To make the dumplings, combine flour, baking powder and salt in a bowl; cut in shortening until crumbly. Add cheese. Stir in milk just until moistened.
Drop by tablespoons onto simmering tomato sauce. Cover and simmer for 20 minutes or until a toothpick inserted in a dumpling comes out clean (do not lift the cover while simmering).