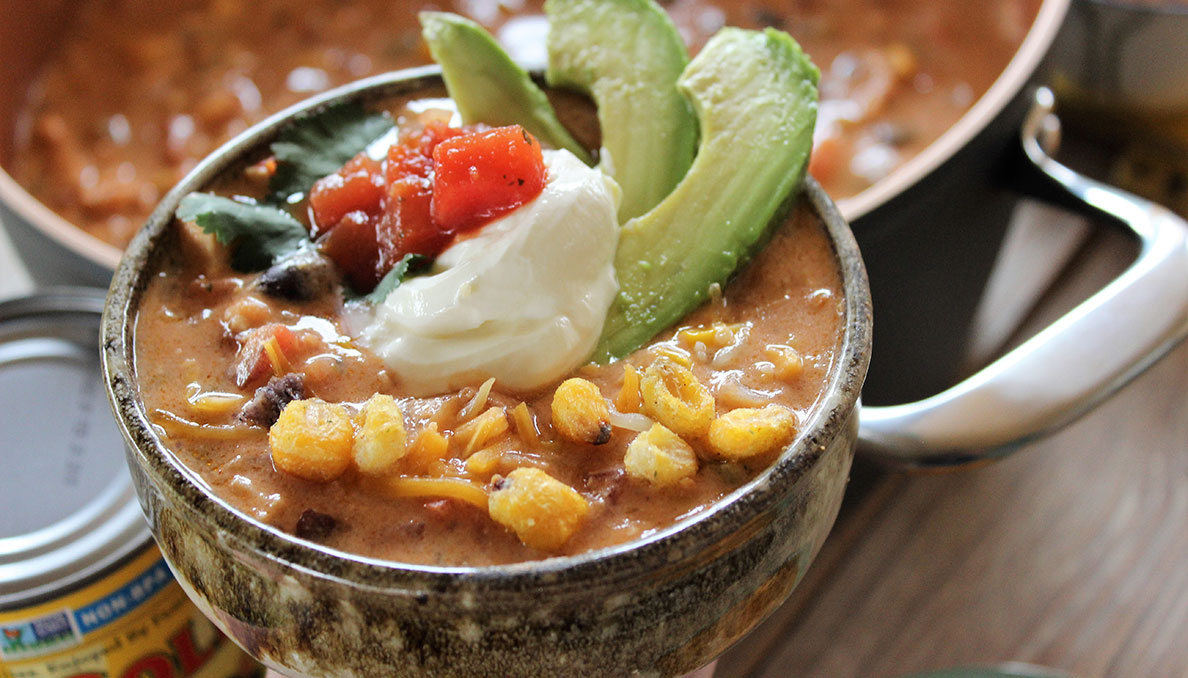 Cheesy Enchilada Soup
Chef
Suzanne Clark
created this soup using our Petite Diced Tomatoes Green Chilies with Lime & Cilantro to give this creamy soup some heat with zest. The lime juice adds the right amount of acidity to balance the richness from the cream cheese. If you like it hotter, you could add adobo sauce or a chipotle pepper for added heat.
Ingredients
COPY INGREDIENTS
Instructions
In a large, heavy bottomed pan, add butter, onions and bell pepper. Cook for about 5 minutes, until soft and translucent. To the pan, add cumin, garlic powder and cream cheese. Stir and cook until cheese is melted.
Stir in tomatoes, enchilada sauce, chicken broth, black beans, corn and cheddar cheese. Stir and cook until cheese is melted. Add chicken and stir to combine. Cook over medium heat until soup is warmed through, about 10 to 15 minutes. Do not allow soup to come to a boil. Soup with cream or cream cheese can separate and tend to stick to your pan if you allow it to boil. Keep it over medium to low heat and stir occasionally to prevent sticking.
Ladle soup into bowls and top with your favorite toppings, like shredded cheese, sour cream, avocado, fresh cilantro, jalapenos, corn nuts, more tomatoes or crushed corn chips.