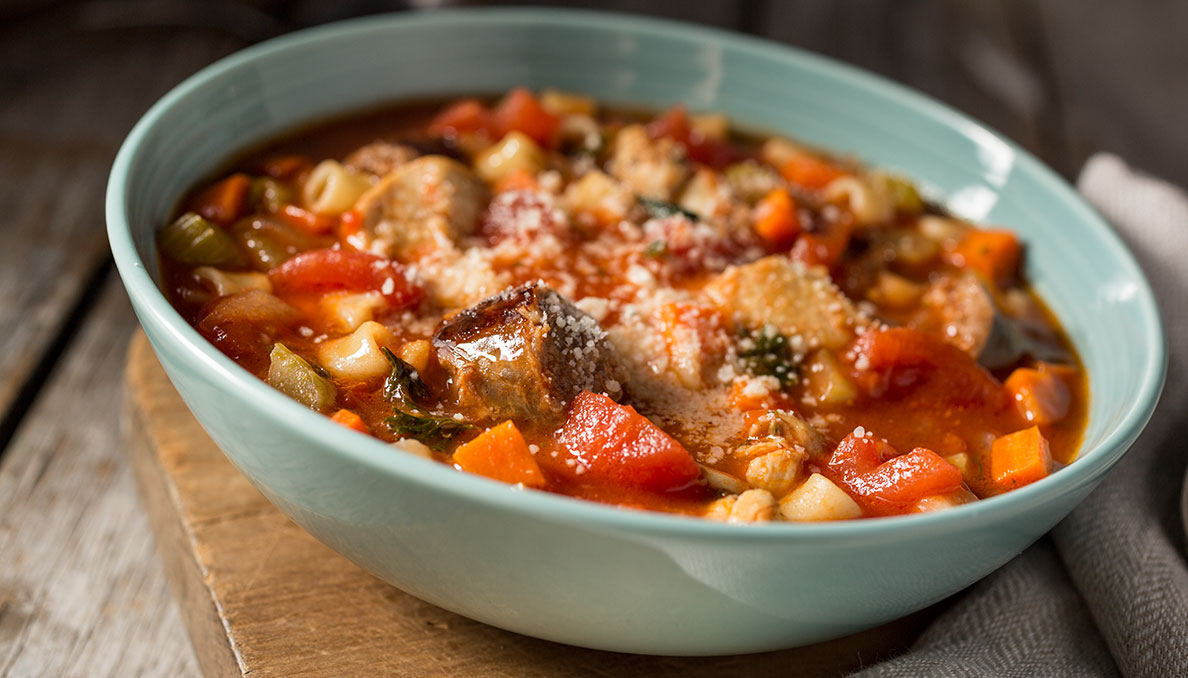 Chicken and Sausage Stew
A great stew can hit the spot in a way that most meals can't. The hunks of chicken, garlic cloves and chopped carrots in this rich, boldly flavorful stew make it completely satisfying.
Ingredients
COPY INGREDIENTS
Ingredients
1 tablespoon extra virgin olive oil
8 ounces boneless skinless chicken breasts, cut into 1/2 inch pieces
1 (10 ounce) package Italian sausage, cooked and cut into 1/2 inch pieces
1 medium onion, chopped
2 cups diced carrots
2 cups diced celery
1 large garlic clove, thinly sliced
1 tablespoon fennel seeds
1 (28 ounce) can Red Gold® Crushed Tomatoes 28 oz
2 (14.5 ounce) cans Red Gold® Diced Tomatoes 14.5 oz
1 cup chopped fresh parsley
4 cups chicken broth
1 cup rotini pasta, or ditalini pasta, cooked and drained
Salt and black pepper to taste
1/2 cup grated Parmesan cheese
Instructions
Heat a 4-quart stock pot on medium heat. Add olive oil and brown chicken pieces. Remove chicken and set aside. Return the pan to the heat and add the sausage. Brown evenly, then remove from pot and drain. Add the onion, carrot, celery, garlic and fennel seed and stir. Season lightly and simmer, about 7 to 8 minutes.
Add crushed tomatoes, parsley, and chicken broth. Return chicken and sausage back to pot. Bring back to boil and cover. Reduce heat to simmer and cook until carrots are tender, about 5 minutes
Add the diced tomatoes, and pasta. Turn off the heat and let the pot rest for 5 minutes. Season with salt and black pepper.
Transfer to serving bowl and sprinkle with Parmesan cheese.