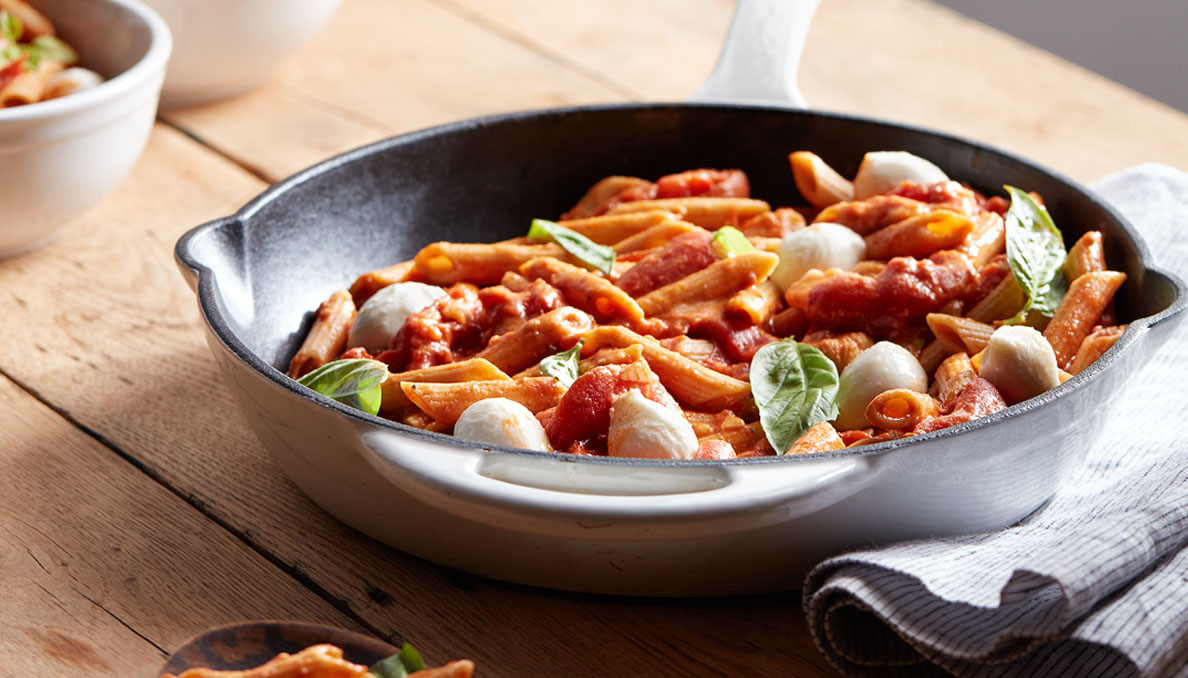 Creamy Caprese Pasta
The flavors of classic tomato caprese in a creamy and cheesy pasta dish. Pasta is cooked in tomatoes, garlic, fresh basil and balsamic vinegar for infused flavor. Fresh mozzarella and cream make this Italian comfort dish extra creamy.
Ingredients
COPY INGREDIENTS
4 cups water
2 tablespoons extra virgin olive oil
1 pound (16 ounce) box penne pasta
1 (28 ounce) can Red Gold® Whole Peeled Tomatoes 28 oz
2 tablespoons Red Gold® Tomato Paste 6 oz
3 garlic cloves, minced
Salt and black pepper to taste
1/2 cup chopped fresh basil
2 tablespoons balsamic vinegar
1/3 cup heavy cream, or half and half
4 ounces fresh mozzarella cheese, cut into cubes
Fresh basil leaves and mini mozzarella balls as garnish
Instructions
In a stockpot combine water, oil, pasta, tomatoes, tomato paste, garlic, salt, black pepper, basil and balsamic vinegar. Bring mixture to a boil.Reduce heat and simmer for 10 to 12 minutes or until pasta is cooked and water reduced.
Remove from heat and add in heavy cream and cheese cubes. Cover pan and let the cheese melt for about 2 minutes; then stir to combine.
Garnish with fresh basil leaves and mozzarella balls, serve immediately.