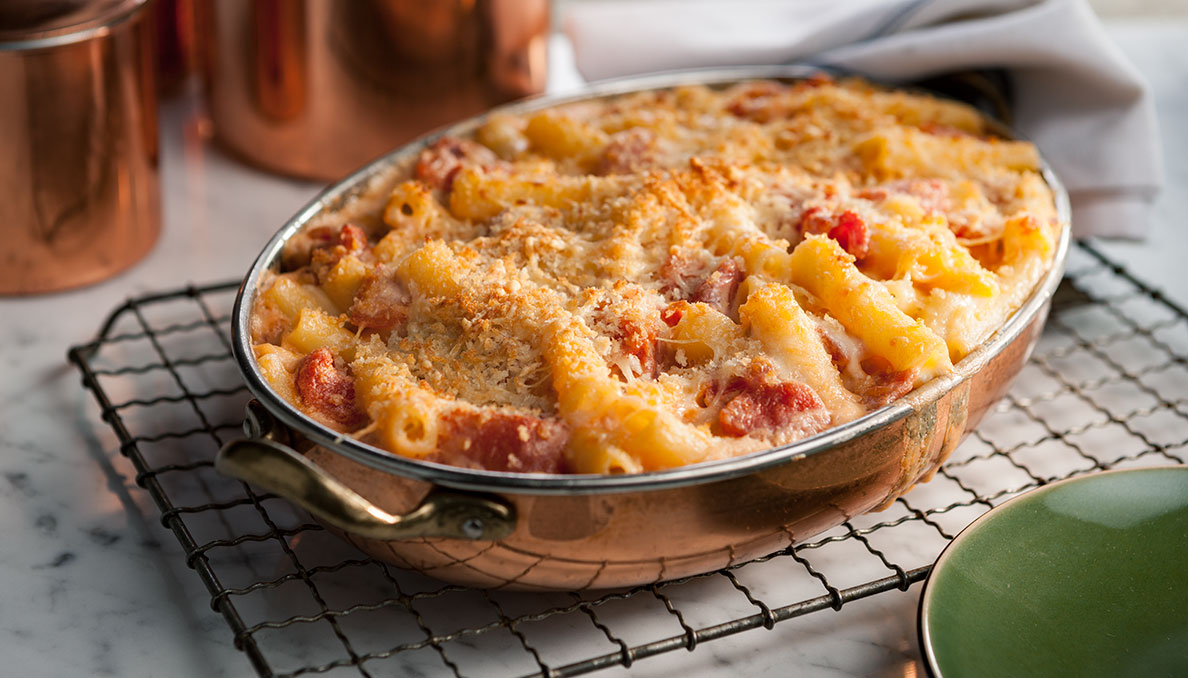 Fontina Macaroni and Cheese
A simple, yet sophisticated twist on classic macaroni and cheese, this recipe featuring Fontina cheese will become a new favorite at your table.
Ingredients
COPY INGREDIENTS
8 ounces ziti pasta, cooked and drained
2 tablespoons butter
1 garlic clove, minced
2 tablespoons flour
2 cups whipping cream
1/2 teaspoon nutmeg
1 (3 ounce) package light cream cheese
1 cup shredded Fontina cheese
2 (14.5 ounce) cans Red Gold® Petite Diced Tomatoes 14.5 oz, drained
Salt and black pepper to taste
1/2 cup grated Parmesan cheese
1/2 cup panko bread crumbs
2 tablespoons extra virgin olive oil
2 tablespoons chopped fresh parsley
Instructions
Preheat oven to 400° F. In a large saucepan melt butter over medium-high heat. Add garlic and sauté for 1 minute. Whisk in flour and cook the roux (butter-flour mixture) for 1 minute. Add the cream, nutmeg and cream cheese; whisk to combine. Bring to a simmer and whisk until the mixture is thick and smooth.
Stir in the Fontina cheese and diced tomatoes; whisk until smooth.
Add the pasta to the cheese mixture and stir to coat. Season with salt and black pepper and put into a large, buttered casserole dish. In a small bowl combine panko and Parmesan cheese; sprinkle on top of macaroni. Drizzle with olive oil.
For creamy baked mac and cheese, place under the broiler for 2 to 3 minutes, watch carefully. You want the crunchy topping to toast, but not burn. For a more traditional firm baked mac and cheese, bake for 20 minutes until the top is golden.
Remove from oven and sprinkle with parsley and serve warm.