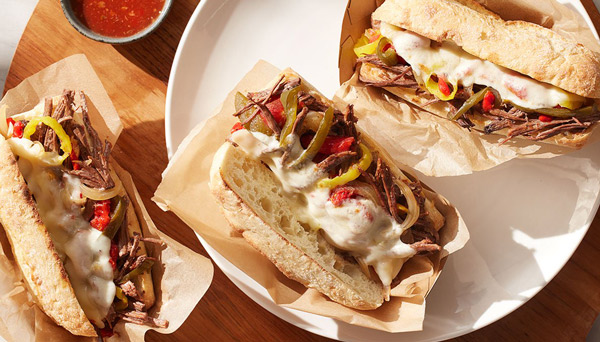 Italian Beef
Reminiscent of the famous Chicago beef, this slow cooker Italian beef sandwich is perfect for dinner or game days. Chuck roast, the best beef for Italian beef sandwiches; simmers all day with onions, peppers, Italian seasoning and a tomato sauce made using our Crushed and Whole Peel Tomatoes.
Ingredients
COPY INGREDIENTS
1 tablespoon olive oil
4-5 pounds beef chuck roast
salt and freshly ground black pepper, to taste
1/8 teaspoon red pepper flakes
2 teaspoons Italian seasoning
2 teaspoons dried basil
2 green bell peppers, sliced
1 yellow bell pepper, sliced
2 medium onions, sliced
2 garlic cloves, minced
1/4 cup roasted red peppers, cut into strips
1 jar banana peppers, cut into strips, or pepperocinis if you like more heat
1 cup beef stock
2 beef bouillon cubes, crushed
1 (28 ounce) can Red Gold® Crushed Tomatoes 28 oz, or 2 (15 ounce) cans
1 (28 ounce) can Red Gold® Whole Peeled Tomatoes 28 oz, or 2 (14.5 ounce) cans
8 hoagie rolls
8 slices provolone cheese
butter, for toasting the bread
Instructions
In a large skillet heat oil over medium high heat. Season the chuck roast with salt, black pepper, pepper flakes and Italian seasoning. Brown the roast on all sides and transfer to slow cooker.
Top the roast with bell peppers, onions, garlic, roasted red peppers, banana peppers, beef broth, bouillon cubes, crushed tomatoes and whole tomatoes. Cover and set slow cooker to Low setting. Cook for 8 hours. About 30 minutes before cook time ends, remove roast to a cutting board and shred the meat using two forks. Return shredded beef to slow cooker for final 30 minutes of cooking.
Preheat broiler on High.
Butter the inside of each hoagie roll and place open face on a baking sheet. Tear cheese slices in half and place one side of the bread (are you a cheese on bottom or top?), stacking one half above the other. Place baking sheet under broiler until cheese starts to melt and bread just begins to brown. Remove from oven.
Spoon shredded meat onto rolls and top with onions and peppers. Spoon a bit of the broth over the meat. We like to serve with au jus on side for dipping!
Instant Pot directions:
If you want to make Instant Pot Italian Beef, sear beef in your Instant Pot using the Saute setting. You may want to cut the roast in half to make it easier to brown, remove seared meat to a plate and set aside.
Add onions and garlic to the pot and cook to soften. Add beef broth, bouillon cubes and tomato products to the pot, scrape up any brown bits from the bottom of the pot. Add the beef back to the pot and set Instant Pot to Meat setting or Manual High Pressure and set timer for 50 minutes.
Once time has lapsed, let pot natural pressure release for 10 to 15 minutes and if pin hasn't dropped at the end of 25 minutes, quick release remaining pressure. Remove cooked beef to a cutting board and shred using two forks.
Add all of the peppers (bell peppers, roasted red peppers and banana peppers to the pot and stir. Add the beef back to the pot, cover with the lid and set to Manual High Pressure, set timer for 10 minutes.
When time has lapsed, quick release and open once the pin has dropped. Check the peppers for your desired tenderness, you may cook longer if needed using the Saute function. Continue the recipe instructions above for broiling the bread and serving sandwiches.