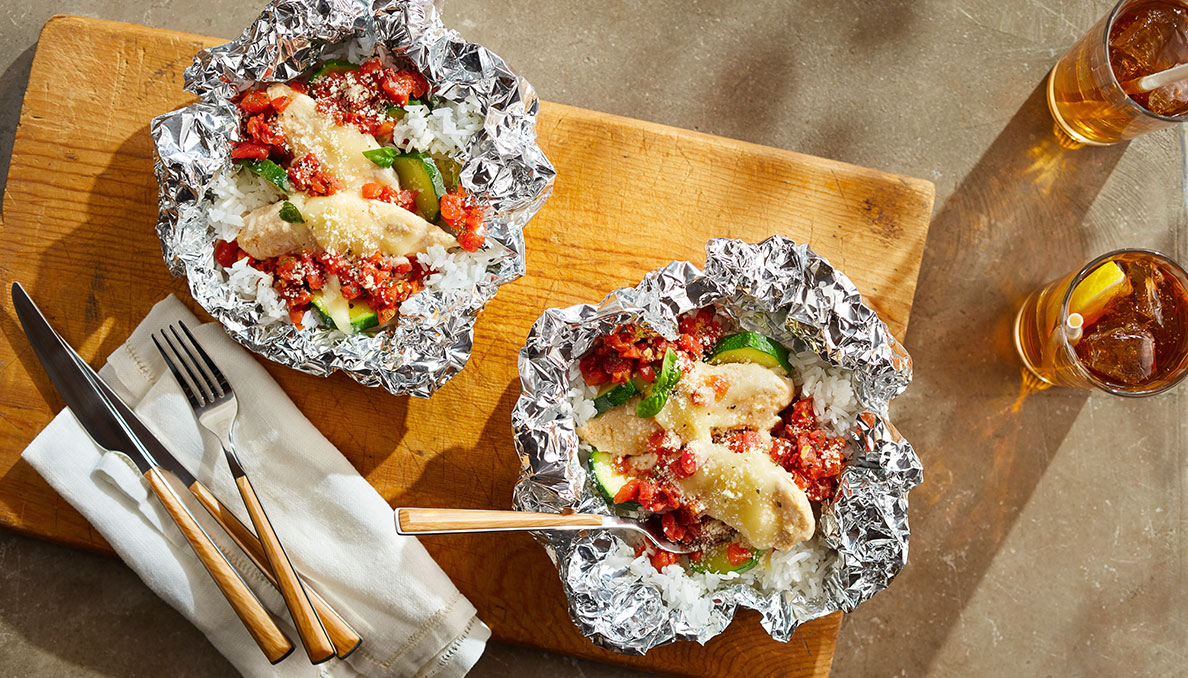 Italian Chicken Foil Packet
A whole meal in a foil packet that is perfect for a backyard barbecue, camping or picnic. Italian flavors in a fun meal for the whole family with no pots or pans to wash - you can even eat right from the pouch and forgo washing any dishes! This Italian foil packet recipe has chicken tenders, our diced tomatoes with garlic and olive oil, rice, zucchini, Italian seasoning, and two types of cheese for a all-in-one meal in a tidy foil packet.

Ingredients
COPY INGREDIENTS
2 cups rice, cooked according to package directions
8-12 chicken tenders
1 (14.5 ounce) can Red Gold® Petite Diced Tomatoes with Garlic & Olive Oil 14.5 oz
1 medium zucchini, sliced
1 tablespoon balsamic vinegar
1/2 teaspoon Italian seasoning
8 tablespoons shredded mozzarella cheese
4 tablespoons grated Parmesan cheese
salt and black pepper, to taste
garlic powder, for seasoning the chicken
Instructions
Preheat oven to 450 degrees F or grill to high.
For each foil packet, have 4 foil pieces 16-18" in length.
In a medium bowl, combine the diced tomatoes, Italian seasoning and balsamic vinegar, set aside.

To build the packets: place 1/2 cup of the cooked rice on the bottom half of the foil sheet. Place a layer of sliced zucchini on top of the rice. Place 2-3 chicken tenders on top of the zucchini and season with salt, pepper, and garlic powder. Fold the foil over and double roll the edges to form a tight seal. This important to ensure the packets will not leak. Repeat for the other 3 packets. Place packets onto a foil lined baking sheet and bake for 30 minutes. If grilling, place directly on grill grate. Check the chicken temperature when 30 minutes are up, chicken should read 165 degrees F.
Very carefully open the foil packets using scissors or a knife, there will be hot steam that will escape as you open them. Top the chicken in each packet with 2 tablespoons of shredded cheese and 1 tablespoon of Parmesan cheese. Return to the oven or gill (uncovered, do not close the foil) to melt the cheese, about 5 minutes. Remove and transfer packets to plates for serving. You can eat right from the packet or spoon contents onto a plate.