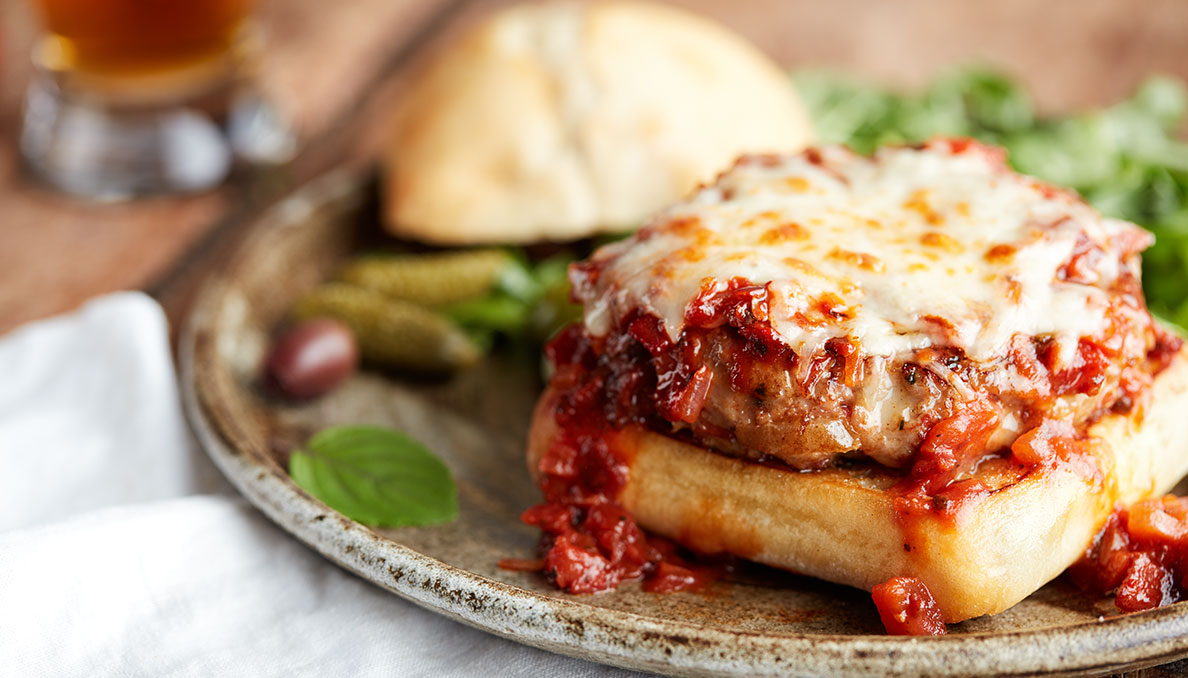 Italian Pizza Burgers
This lean beef burger is flavorful and juicy! A red wine tomato sauce tops the gourmet burger along with melted mozzarella cheese. Serve open face on garlic toast or on garlic toasted buns! So delicious; you'll consider serving these at your next dinner party!
Ingredients
COPY INGREDIENTS
1 1/4 ounces sliced pepperoni, finely chopped
4 garlic cloves, finely chopped
3/4 cup onion, finely chopped
2 tablespoons olive oil
1 (14.5 ounce) can Red Gold® Petite Diced Tomatoes 14.5 oz, drained and juice reserved
1 egg
2 tablespoons whole milk
1/4 cup seasoned bread crumbs
3/4 teaspoon salt, divided
1/2 teaspoon freshly ground black pepper,, divided
1/4 teaspoon crushed red pepper
1/4 teaspoon fennel seeds, crushed
1 1/4 teaspoon Italian seasoning, divided
1 cup shredded mozzarella cheese, divided
1 teaspoon sugar
1/2 cup dry red wine
3 tablespoons Red Gold® Tomato Paste 6 oz
6 slices garlic bread, or ciabatta buns
Instructions
Toast garlic bread according to package directions. Set aside.
In small skillet add olive oil, onion, garlic, and pepperoni. Cook 3 to 4 minutes over medium high heat. Remove from pan and set aside to cool.
In a large mixing bowl, combine egg, milk and bread crumbs. Add ground beef, 1/2 teaspoon salt, 1/4 teaspoon pepper, crushed red pepper, crushed fennel seeds, 1 teaspoon Italian seasoning, and 1/2 cup of the shredded mozzarella cheese. Add 1/3 cup of the onion and pepperoni mixture and 1/2 cup of the drained petite diced tomatoes. Gently blend all ingredients together with clean hands until combined. Shape into six (6) equal sized burger, about a half inch thick. Cover and refrigerate until ready to cook.
To make the sauce add remaining onion and pepperoni mixture back to the skillet. Over medium heat add the wine and simmer to reduce by half. Add 1/4 teaspoon Italian seasoning, sugar, 1/4 teaspoon salt, 1/4 teaspoon pepper, tomato paste and stir to combine. Add remaining diced tomatoes and reserved juice. Gently simmer for 10 to 15 minutes. Taste and adjust seasoning as needed.
Preheat oven broiler to high.
In a non-stick skillet over medium heat add 3-4 burgers (depending on skillet size). Cook burgers for 7 minutes and gently flip and cook an additional 7 minutes or until internal temperature reads 160º degrees. Removed cooked burgers to a plate and tent with foil to keep warm. Repeat with remaining burgers. You could also cook burgers on a grill or grill pan.
Place the 6 slices of garlic bread (or buns) on a baking sheet tray, top each piece of bread with a burger and spoon tomato sauce over the top, sprinkle with shredded mozzarella cheese. Place under broiler 2 to 3 minutes to melt cheese. Carefully remove and serve.