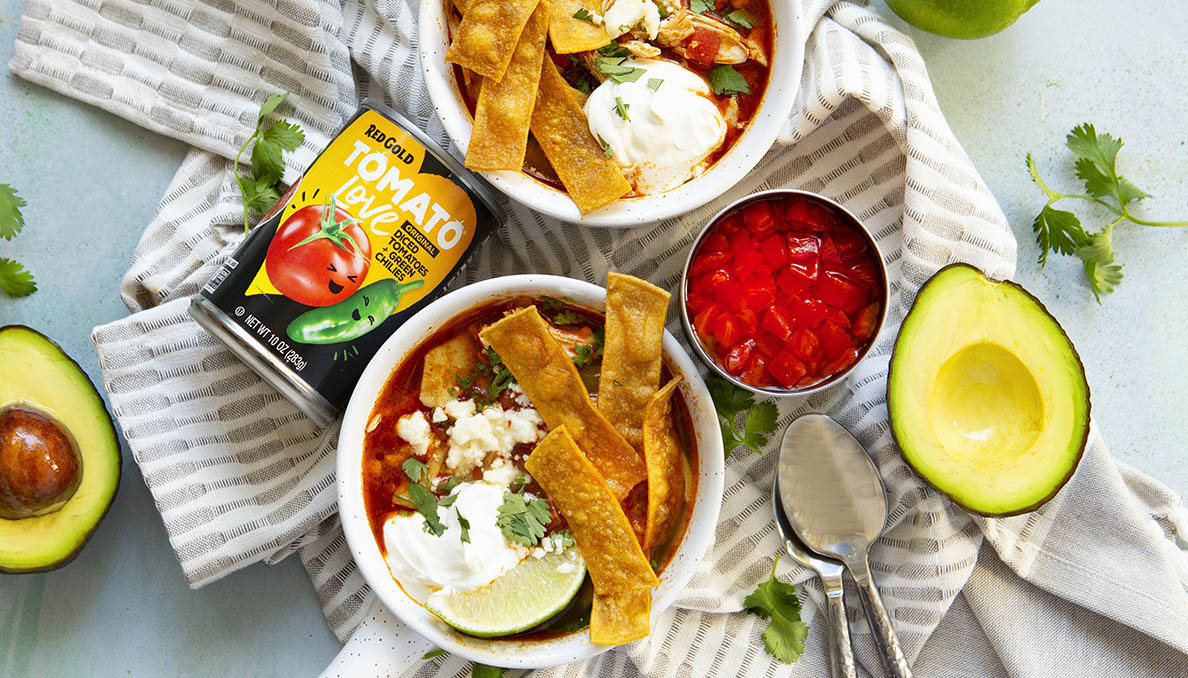 One-Pot Tortilla Soup
Red Gold Tomato Love Original Diced Tomatoes + Green Chilies make this Mexican-inspired Tortilla Soup zesty and flavorful! Simmer to blend all the flavors, then enjoy topped with crispy homemade tortilla strips, avocado, cilantro, sour cream, or whatever you like.
Ingredients
COPY INGREDIENTS
Soup
12 small corn tortillas
3 tablespoons vegetable oil, divided
Kosher salt, to taste
2 tablespoons chili powder
1 tablespoon ground cumin
3 gloves minced garlic
1 large yellow onion, chopped
2 tablespoons fresh cilantro, finely chopped plus more for topping
5 cups low-sodium chicken stock, add more if needed to achieve desired consistency
4 cups rotisserie chicken, shredded
Toppings
Avocado, diced
Lime wedges
Red onion, chopped
Queso fresco, crumbled
Sour cream
Instructions
Heat oven to 375 F. Slice tortillas into 1-inch strips. Chop half the strips into 1-inch squares, set aside for soup. Toss strips with 1 tablespoon vegetable oil and arrange on a baking sheet. Bake until golden brown, about 10 minutes. Sprinkle with salt, set aside. These will be your crunchy garnish.

I

n a large pot, heat remaining 2 tablespoons oil over medium-low heat. Add tortilla squares and cook for about 1 minute. Add chili powder, cumin, garlic, onions and cilantro. Cook for about 10 minutes until onions are soft, stirring frequently.

Add stock and tomatoes with chilies. Bring to a boil. Reduce heat to low and simmer for about 15 minutes. Add chicken, cook for about 5 minutes until warmed through. Add more stock, if desired, if mixture is too thick.

Serve soup in bowls garnished with crispy tortilla strips, extra cilantro, avocado, lime juice, red onion, queso fresco and sour cream, if desired.