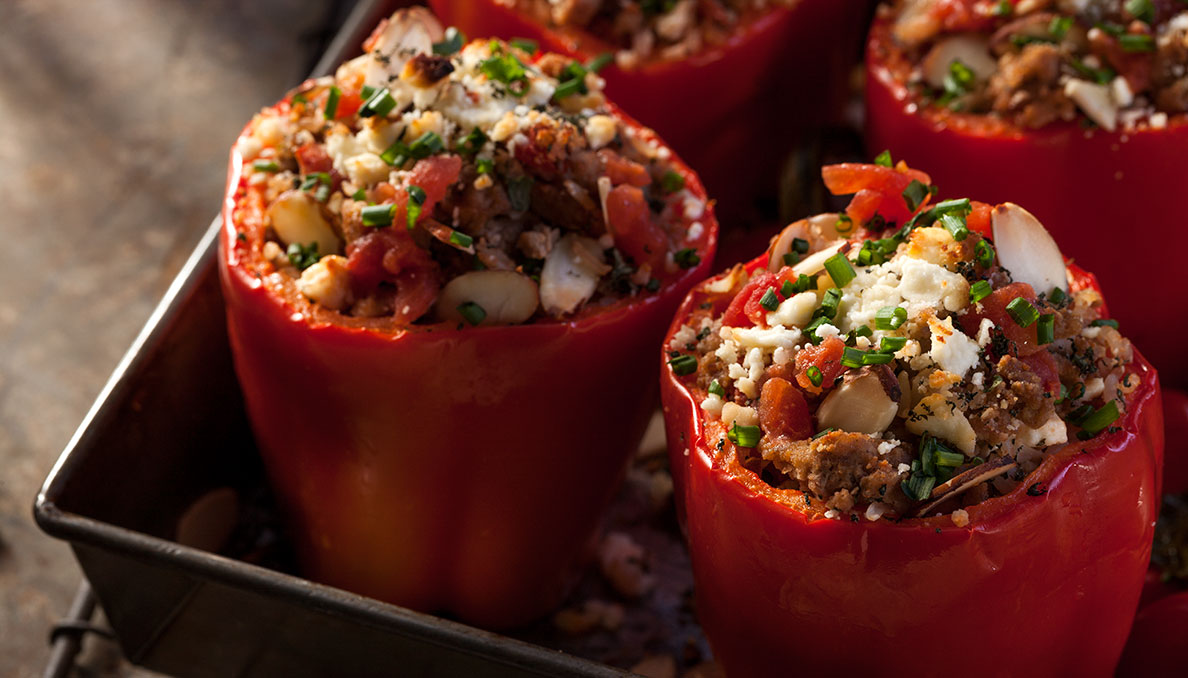 Savory Turkey Stuffed Peppers
Ground turkey is seasoned with holiday flavors including sage and thyme in these stuffed peppers. Crumbled feta adds a bit of saltiness and sliced almonds give them a crunch. Savory turkey stuffed peppers perfect for any night.
Ingredients
COPY INGREDIENTS
2 tablespoons olive oil
1 1/2 pounds ground turkey, or crumbled meat substitute for vegetarian option
2 teaspoons salt
2 teaspoons black pepper
1 1/2 cups brown rice, cooked
1 (14.5 ounce) can Red Gold® Diced Tomatoes 14.5 oz, drained
2 teaspoons fresh sage leaves, chopped
2 teaspoons fresh thyme, chopped, plus more for garnish
2/3 cup feta cheese
4 large red bell peppers, color of your choosing, tops removed, ribs and seeds removed
1/4 cup sliced almonds
chopped chives, for garnish
Instructions
Preheat the oven to 400º F.
Add 1 tablespoon of olive oil to a skillet over medium heat. When the oil is hot add the turkey, 1 1/2 teaspoons of salt and 1 1/2 teaspoons of pepper, and sauté until the meat is just cooked through, about 6 minutes. Let the turkey cool just slightly and add the rice, tomatoes, sage, thyme and half of the cheese. Stir to combine all the ingredients.
Rub the red peppers with the remaining oil inside and out and season the outside of the pepper with the remaining salt and pepper.
Divide the filling among the peppers. Press and pack the mixture into the the peppers so that all of the filling is used and comes just over the top of the peppers. Sprinkle with the remaining cheese and top with the almonds. Bake uncovered in an 8x8 casserole dish until the pepper has softened but still holds it's shape and the center is hot and the cheese is golden brown about 35 to 40 minutes.
Garnish with chives and serve immediately.