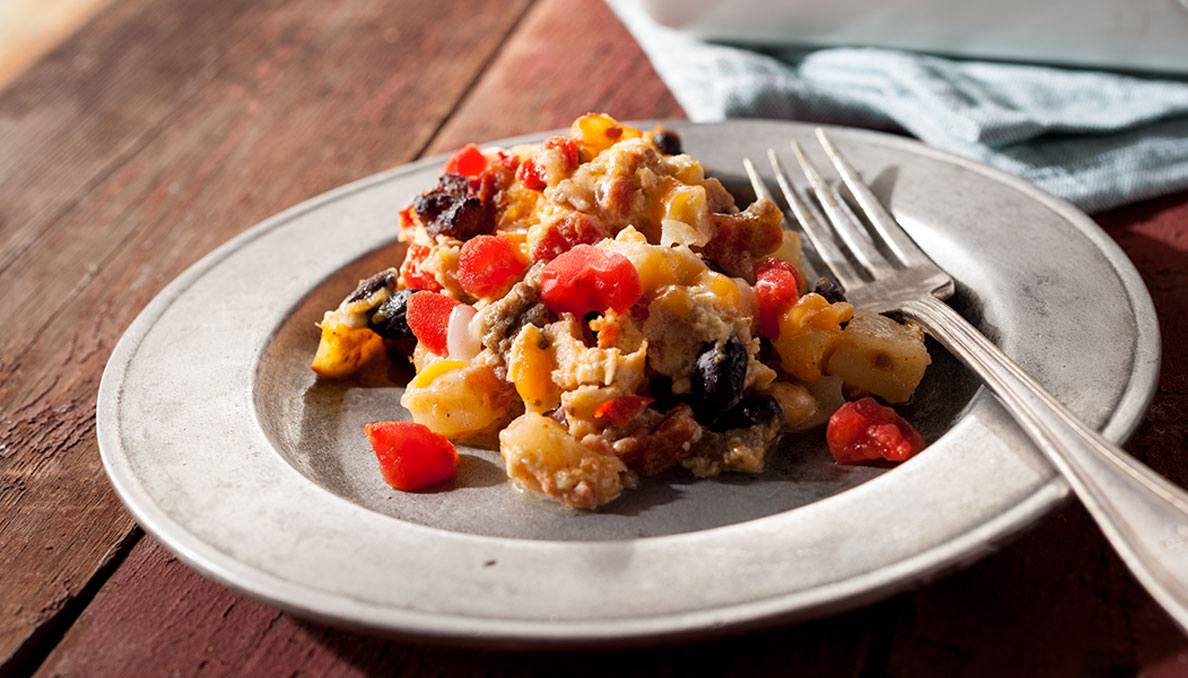 Southwest Breakfast Casserole
All your favorite breakfast choices - sausage, hash browns, eggs, tomatoes and plenty of cheese; in one dish! This breakfast casserole is easy to prepare, delicious and crowd pleasing, with just a touch of heat.


Ingredients
COPY INGREDIENTS
1 pound pork sausage
1 medium onion, chopped
1 (15 ounce) can black beans, rinsed and drained
2 (14.5 ounce) cans Red Gold® Petite Diced Tomatoes with Green Chilies 14.5 oz, drained
1 1/2 cups shredded cheddar cheese
1/2 cup shredded mozzarella cheese
3 cups frozen hash brown potatoes
8 eggs
3/4 cup heavy cream
1 teaspoon chili powder
1 teaspoon ground cumin
1/4 teaspoon garlic powder
Salt and black pepper to taste
Instructions
Preheat oven to 375° F.
In a large skillet, cook sausage and onion until sausage is no longer pink. Add red bell pepper, beans, diced tomatoes and half of the spices (1/2 teaspoon chili powder. 1/2 teaspoon cumin and 1/8 teaspoon garlic powder).
Add the cheddar cheese, mozzarella cheese and hash browns to the sausage mixture and mix well.
In a small bowl, whisk eggs, cream, remainder of spices, salt and black pepper.
Use a 3 quart baking dish that has been sprayed with non-stick spray.
Add half of the sausage mixture to baking dish and pour half of the egg mixture over the sausage mixture. Add remaining half of sausage mixture on top and lastly, add remaining egg mixture.
Bake uncovered, for 40 to 50 minutes. The casserole is ready when the eggs are set and no longer liquid in the center. Let the dish cool for about 15 minutes before serving.