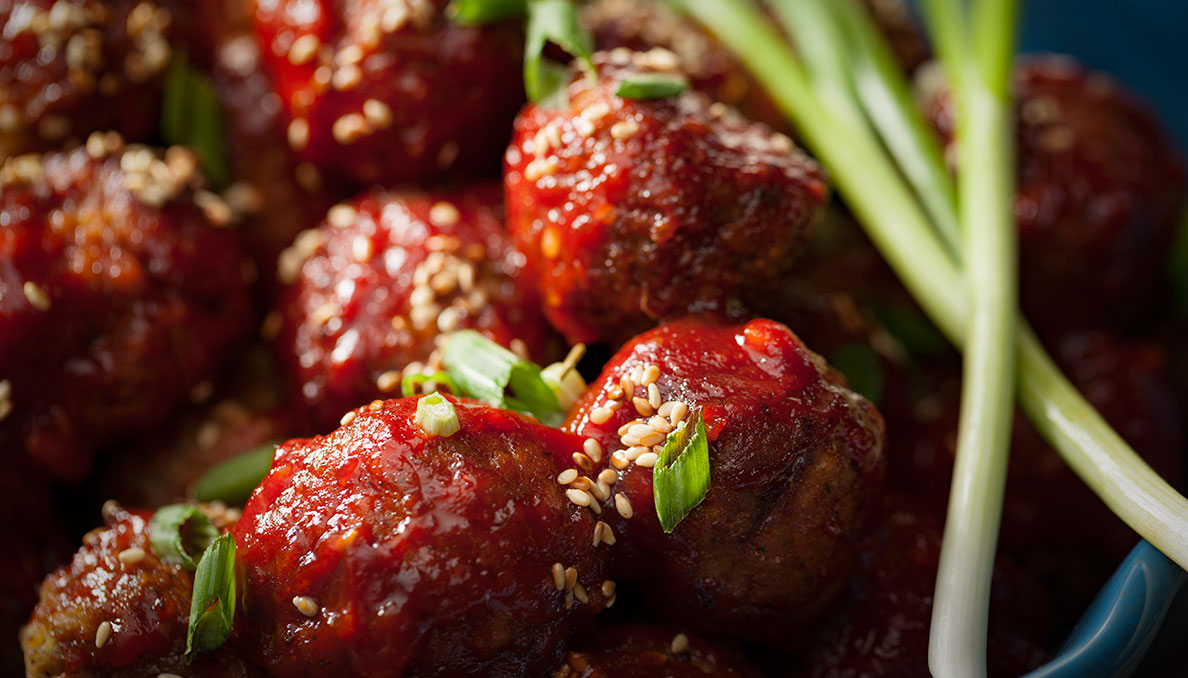 Spicy Korean Chili Glazed Meatballs
Gochujang is a staple in Korean cooking. A sauce made from red chili paste and other ingredients is the perfect addition for the sticky glaze in these meatballs. Sweet, garlicky and savory, this diverse appetizer works for a game day buffet or a fancy holiday spread.
Ingredients
COPY INGREDIENTS
18 prepared frozen meatballs, cooked according to package directions and cooled
1 tablespoon vegetable oil
1 teaspoon garlic puree
1 teaspoon ginger puree
1/2 cup Red Gold® Folds of Honor Ketchup 32 oz
1/2 cup karo light corn syrup
1/4 cup gochujang chili sauce
Scallions, sliced for garnish
Sesame seeds, for garnish
Instructions
In a small sauce pan or sauté pan add oil and heat over medium high heat. When hot, add garlic and ginger puree. Sauté for one minute.
Add ketchup, corn syrup and gochujang chili sauce. Mix together with small wire whip or whisk.
Add 12 to 18 meatballs and simmer gently until meatballs are heated through.
Serve garnished with sliced scallions and toasted sesame seeds
A serving is considered 3, 1 ounce meatballs. Glaze can be easily doubled or tripled depending on how many meatballs you wish to serve.
Meatballs can be set out with fancy picks on a platter for a holiday party or put in your slow cooker on low to serve on a game day buffet.