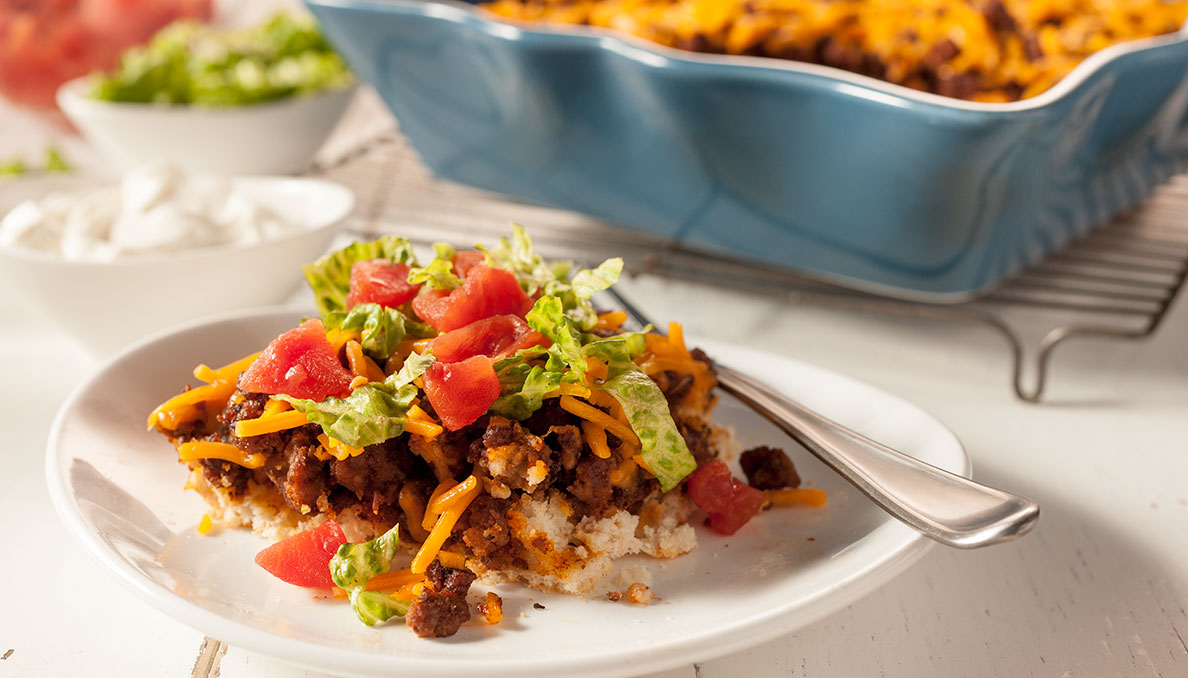 Taco Bake
Ready for a new dimension to the ever-popular taco? Don't mess with a packaged taco seasoning, make your own without the added stuff you don't want! Taco flavor in a casserole - so simple to make and enjoy!
Ingredients
COPY INGREDIENTS
1 pound lean ground beef
1 small onion, chopped
1 (1.25 ounce) package taco seasoning mix, or 2 tablespoons homemade seasoning, recipe below
1/3 cup water
1 cup frozen corn
1 (8.5 ounce) box cornbread mix, prepared
1 cup cheddar cheese, shredded
Toppings
Sliced green onions
Fresh shredded lettuce
Fresh sour cream
1 (14.5 ounce) can Red Gold® Diced Tomatoes 14.5 oz
Instructions
Preheat oven to 450° F.
Grease an 8x8x2 inch baking dish. Cook ground beef, onion until beef is cooked. Combine taco seasoning and water in a bowl. Add seasoning mixture and corn; cook an additional 5 minutes.
Spread prepared cornbread mix into prepared baking dish. Spread beef mixture over cornbread.
Bake, uncovered, 25 to 30 minutes or until a toothpick inserted in center comes out clean; do not over bake. Sprinkle with cheese and let stand 1 to 2 minutes or until cheese is melted. Cut into 6 equal pieces and serve with toppings.
Taco Seasoning Mix

(makes about 1/2 cup)
3 tablespoons chili powder
2 tablespoons onion powder
1 tablespoon cumin
1 tablespoon garlic powder
1 tablespoon paprika
1½ teaspoons turmeric
1 teaspoon salt
Combine above ingredients and place in a small jar with a tight fitting lid. Store the seasoning in your pantry to use when a recipe calls for taco seasoning packets. Making your own seasoning removes all the unneeded chemical, sugar and extra sodium.