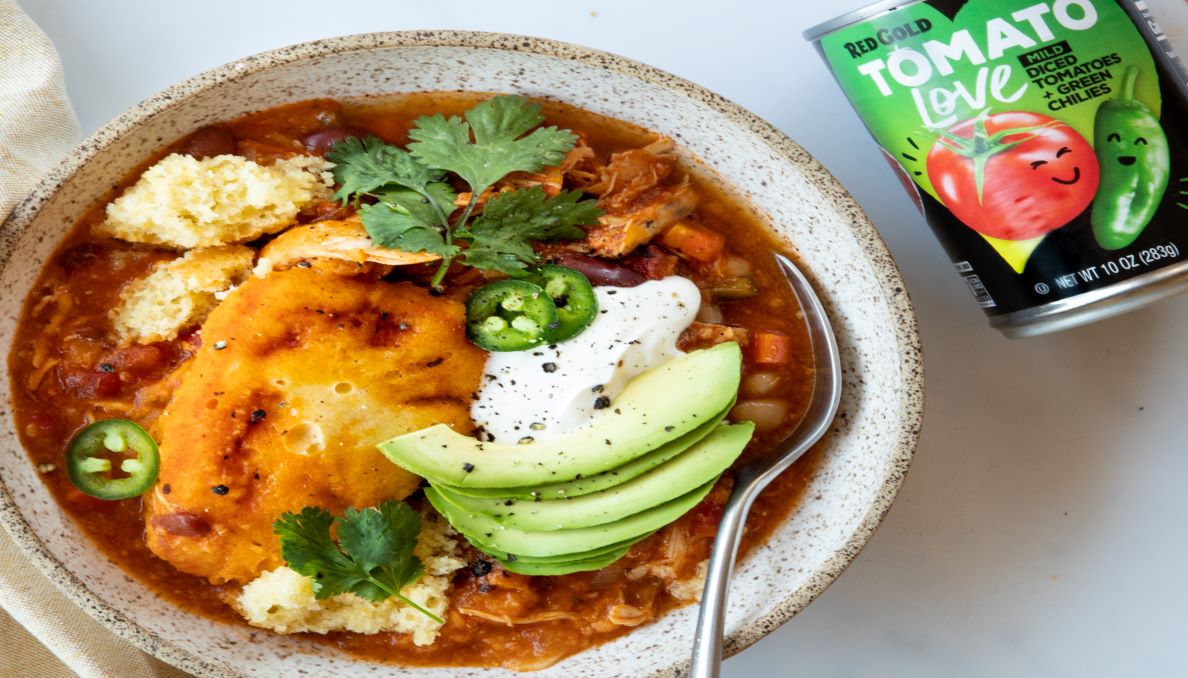 Tomato Green Chili Chicken Stew with Cornbread Dumplings
Now that summer is over and fall and winter are upon us, we tend to get in the mood for savory meals that aren't too heavy, but certainly filling and full of flavor. Tomato Green Chili Chicken Stew made with Red Gold's delicious Tomato Love diced tomatoes + green chilies, along with a variety of other mouthwatering ingredients, will be sure to be a winner on your table as the temperatures outside start to drop.
This hearty stew is bursting with a cornucopia of flavor from ingredients including chili powder, ground cumin, dried oregano, garlic and chili and adobo sauce. For some extra zeal, add your favorite toppings such as jalapenos, sour cream, avocado, or anything else that adds your own personal touch! This dish is the ultimate cross between chicken chili verde and a pot of chili and cornbread!
Our favorite part of this meal? The simple yet delicious Cornbread Muffins. Once the stew has simmered dollop cornbread batter on top and place the pot in the oven to finish off the recipe. You won't regret savoring this incredible mixture of flavors!
Ingredients
COPY INGREDIENTS
Chicken Stew
2 tablespoons olive oil
1 yellow onion, chopped
2 carrots, chopped
3 stalks celery, chopped
1 bell pepper, chopped
3 garlic cloves, sliced
1 chili in adobo sauce, chopped
1 teaspoon ground cumin
1 teaspoon dried oregano
1/2 teaspoon chili powder
1 teaspoon paprika
3 tablespoons tomato paste
1 can kidney beans 15 oz
1 can cannellini beans 15 oz
Meat from 2 rotisserie chickens, shredded
4 cups chicken stock
Cornbread Muffins
3/4 cup all-purpose flour
1/4 cup yellow cornmeal
1/2 teaspoon baking soda
1/2 teaspoon paprika
1/2 teaspoon garlic powder
1/4 teaspoon kosher salt
1 tablespoon honey
1/2 cup sour cream
1 large egg
3 tablespoons butter, melted
1/2 cup cheddar cheese, shredded
Instructions
I

n a large Dutch oven or heavy bottomed pot, heat olive oil over medium heat. Add onions, carrots, celery and bell peppers and cook until fragrant and tender, about 5-6 minutes.

Add garlic, adobo chili, cumin, oregano, chili powder and paprika, continue to cook for an additional 3-4 minutes. Add tomato paste and cook until the tomato paste caramelizes and is rust-like in color, about 2-3 minutes.
Add beans, shredded rotisserie chicken, Tomato Love Mild Diced Tomatoes + Green Chilies and chicken stock. Stir to combine all the ingredients and simmer for 15-20 minutes.
While the stew simmers, combine flour, cornmeal, baking soda, paprika, garlic powder and salt in a large bowl. Whisk until combined. In a separate bowl, combine honey, sour cream, egg, and melted butter. Add the wet ingredients to the dry and fold until well combined. Fold in cheese and set aside while your stew cooks.
Once the stew has simmered for 15-20 minutes, dollop cornbread batter on top. Cover and place in the oven for 45 minutes. Uncover and cook for an additional 10-15 minutes until golden brown.

Allow stew to cool slightly before serving. Garnish with sliced avocado, cilantro, sour cream, fresh cilantro and jalapenos.