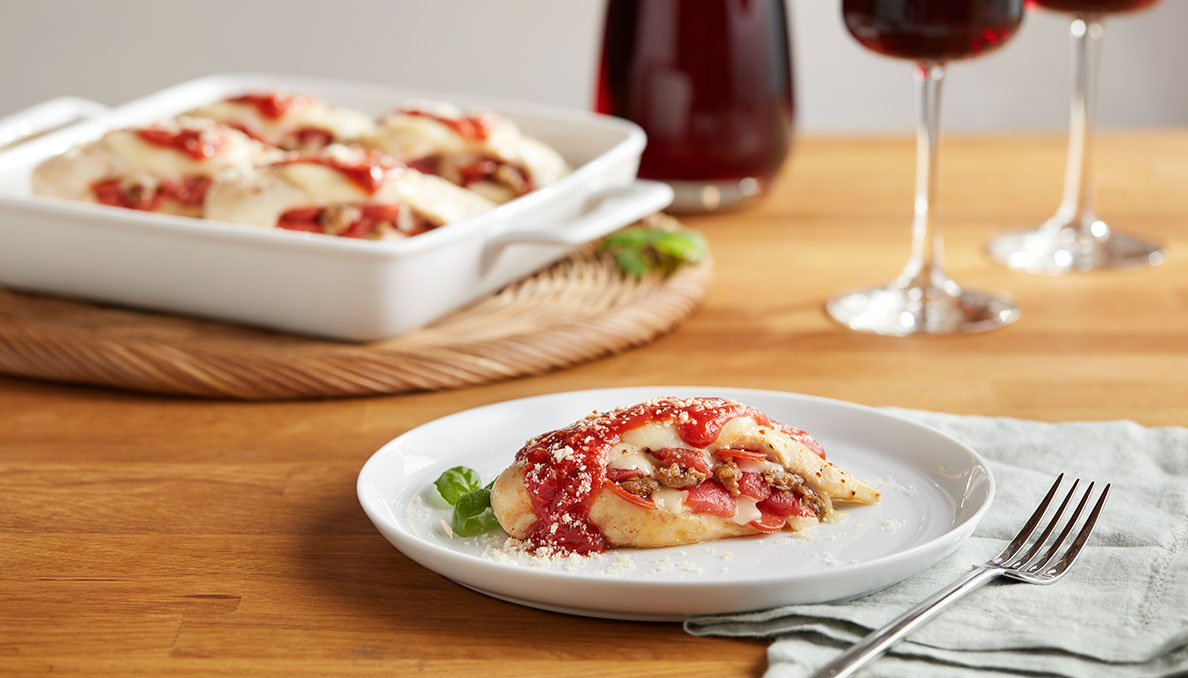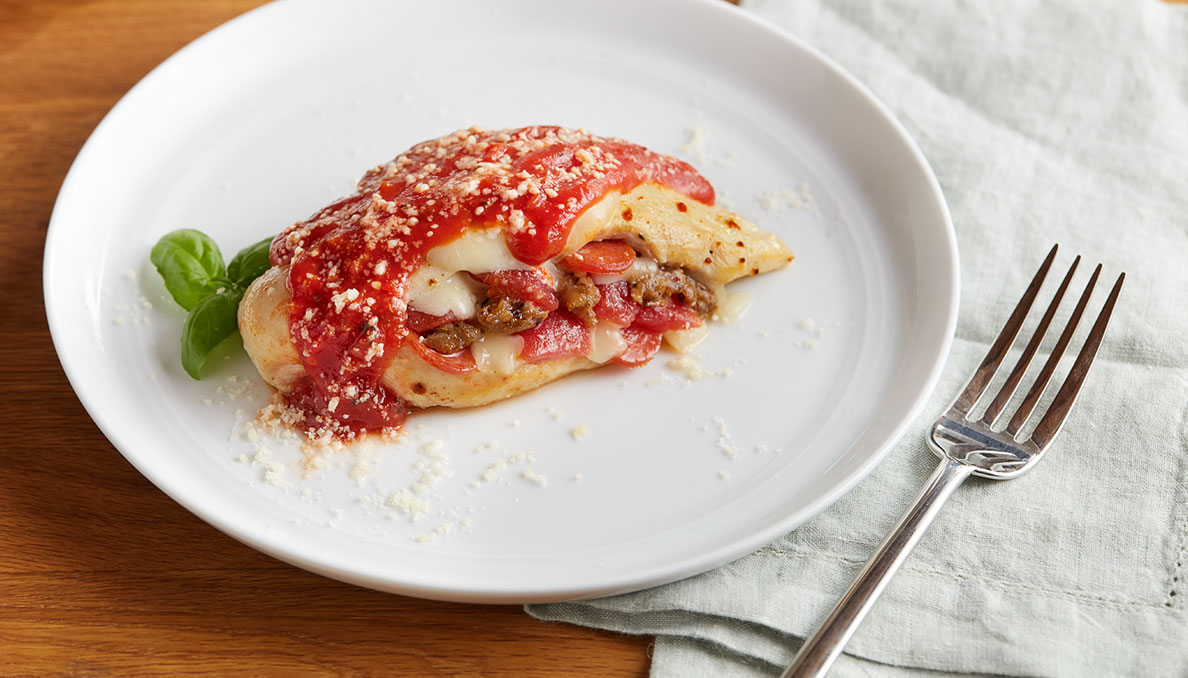 Pizza Stuffed Chicken
A new spin on pizza-night with juicy chicken breasts that are stuffed with pizza sauce, our Diced Tomatoes Basil, Garlic and Oregano, pepperoni, and plenty of mozzarella cheese. If you like mushrooms or black olives, feel free to add them! Dinner at home let's you customize how you like!
Ingredients
COPY INGREDIENTS
6 boneless, skinless chicken breasts
2 (8 ounce) packages of fresh mozzarella
salt and black pepper
1 package mini pepperoni
1 (14.5 ounce) can Redpack® Diced Tomatoes Basil, Garlic & Oregano 14.5 oz, you can chop finer to make them easier to stuff
1/2 pound sweet Italian sausage, casings removed, cooked and cooled
1 1/2 cups of our Easy No Cook PIzza Sauce, click the link in the description for the recipe
Grated Parmesan cheese, for garnish
Instructions
Preheat oven to 400º F. Spray a 9 x 13 inch casserole dish with non-stick cooking spray.
Cut mozzarella into 6, 1/4 inch thick slices and finely chop the rest.
Lay the chicken breasts on a cutting board with the tapered (skinnier) end pointing towards you. Using a sharp knife, beginning about 1/4 of an inch from the edge; make a pocket in the chicken breast horizontally. Start at the thicker end and slowly working towards you - be careful not to cut the breast in half. You should be able to stand the chicken breast with the pocket facing upwards on the cutting board to stuff with the pizza toppings.
Season the chicken with salt and pepper. Stuff a few slices of pepperoni into the pocket, add about a 1/4 cup of the cooked sausage, and about 2 tablespoons of the diced tomatoes and finish by stuffing the the chopped mozzarella (you will divide this among the six chicken breasts). Repeat with the remaining chicken breasts.
Place stuffed chicken into the casserole dish. Bake for 20minutes or until the internal temperature reaches 165 degrees F.
Remove the chicken from the oven and top each stuffed breast with the sliced mozzarella cheese and return to the oven to melt, about 3-5 minutes. Remove and spoon the warm pizza sauce over the chicken and garnish with Parmesan cheese.
Cook's Note: you can add whatever pizza topping ingredients you like (that will fit) - black olives, fresh spinach, diced bell pepper, just don't over stuff or the filling will all run out when baking and could cause uneven cooking.