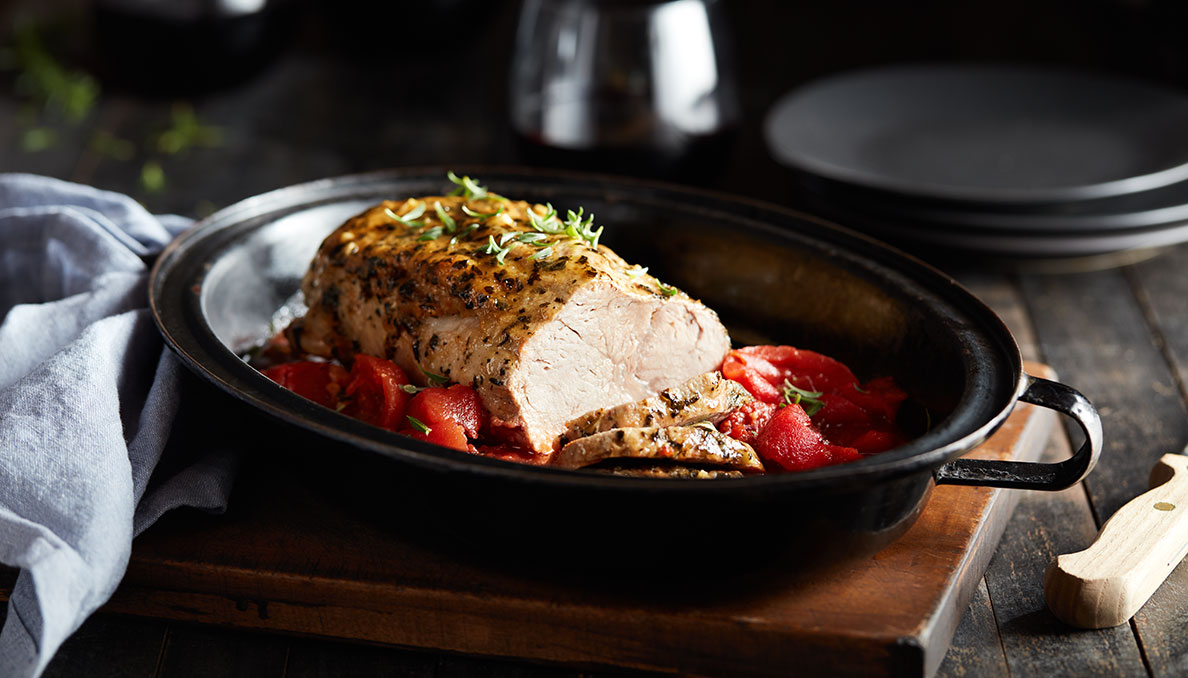 Slow Cooker Parmesan Pork Roast
An impressive pork loin that cooks in your slow cooker to absorb all the flavor from the slow cooker sauce made using our tomato puree and diced tomatoes with basil, garlic, and oregano. The tender pork is then topped with a Parmesan cheese crust to take it next level on flavor; all while using pantry staple ingredients.

Ingredients
COPY INGREDIENTS
Pork
2-2 1/2 pounds pork loin
Salt and black pepper to taste
Crust
1/3 cup grated Parmesan cheese
3 tablespoons honey
1 tablespoon soy sauce
1 tablespoon dried basil
1 tablespoon garlic, minced
1 tablespoon olive oil
Salt and black pepper to taste
Slow Cooker Sauce
1 tablespoon olive oil
1/2 onion, finely chopped
1/2 (29 ounce) can Redpack® Tomato Puree 29 oz
1 (14.5 ounce) can Redpack® Diced Tomatoes Basil, Garlic & Oregano 14.5 oz
Final Sauce
1 1/2 teaspoons cornstarch
2 tablespoons water
Instructions
In a non-stick skillet heat olive oil over medium high heat.
Season pork loin generously with salt and pepper. Sear pork on all sides-transfer to a plate and save the remaining oil/pork juice mixture.
Combine crust ingredients in a medium sized bow and set aside.
Add olive oil to skillet and heat over medium-high. Add onion and garlic and cook for 2 minutes. Add tomato puree and bring to a simmer. Then reduce heat for 5 minutes.
Add diced tomatoes to the bottom of the slow cooker. Pour the tomato puree mixture into the slow cooker. Place pork loin in the slow cooker. Spread the crust mixture over the top of the pork loin. Cover slow cooker and cook for 7-7 ½ hours on low or 3-3 ½ hours on high or until internal pork temperature is 145° F.
Remove pork from slow cooker, cover to keep warm and let rest. Remove diced tomatoes from slow cooker and reserve. Pour tomato sauce into a small sauce pan. Blend the water and cornstarch in a separate bowl to make a slurry. Pour into saucepan and bring to boil, reduce heat and simmer 10 minutes.
Slice pork, arrange tomato pieces over the top and pour the tomato sauce over the sliced pork and serve.